14th Annual Sustainability Fair and EV Show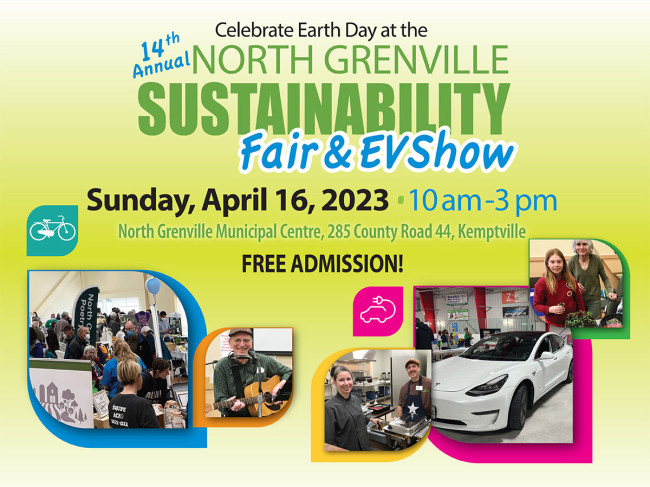 April 16, 2023
Sustainable North Grenville is working to bring the ever popular and eco-friendly Sustainability Fair to Kemptville on Sunday April 16, 2023. This will be the 14th Sustainability Fair since the fair began in 2008.
The event is to be held at the North Grenville Municipal Centre Community Rooms and Arena. Presentations and workshops will take place in the Theatre throughout the event.
For those new to our community, the Sustainability Fair is an opportunity to connect with small businesses local to our area, learn and share on various topics under the sustainability umbrella, see one of the largest electric vehicle displays in Eastern Ontario and test drive some of the latest models. While some attendees are keen environmentalists, many are simply families coming out for a free, family-friendly event to see what they can learn. There's something for everyone!
Local food, local music, tables with local vendors and community groups are expected. The usual space showcasing electric vehicles will be there. Due to the success and excitement last year, additional space will be allocated in the arena for energy efficient home renovation information – specifically addressing the climate change issue.
Follow us!
https://www.facebook.com/sustainablenorthgrenville/
https://twitter.com/sustainableng
https://www.instagram.com/sustainablenorthgrenville/
Details
Date
April 16, 2023
Time
10:00 am - 3:00 pm
Location
285 County Road 44, Kemptville
Website
http://www.sustainablenorthgrenville.ca/
Event Organizer
This email address is being protected from spambots. You need JavaScript enabled to view it.

Are you organizing a community event that should be on the municipal calendar?
Let us know!