Old Town Kemptville Easter Bunny Hop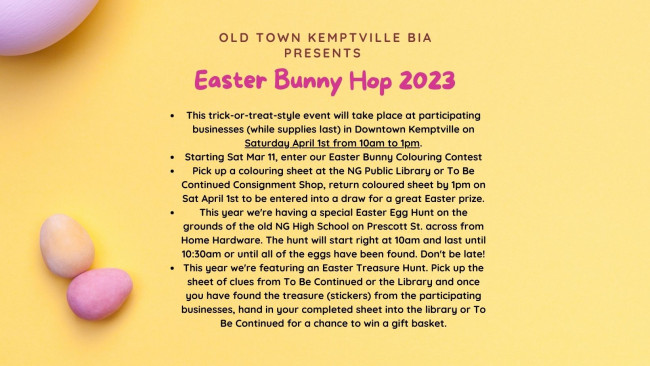 April 1, 2023
The Old Town Kemptville BIA are pleased to announce the return of the Easter Bunny Hop to Downtown Kemptville.
On Saturday April 1st from 10:00am to 1:00pm, children of all ages are invited to enjoy the hospitality of the Old Town Kemptville businesses. As part of the event, each participating business will be providing Easter goodies to children who come to their doors (while supplies last).
This year we're having a special Easter Egg Hunt on the grounds of the former North Grenville District High School on Prescott St. across from Home Hardware. The hunt will start right at 10am and last until 10:30am or until all of the eggs have been found. Don't be late!
We're also featuring an Easter Treasure Hunt. Pick up the sheet of clues from To Be Continued or the Library and once you have found the treasure (stickers) from the participating businesses, hand in your completed sheet into the library or To Be Continued for a chance to win a gift basket.
In addition, there's also a colouring contest where children can win a draw prize. Coluring sheets can be picked up at the library or To Be Continued Consignment Shop starting March 11th. The sheet can also be printed off from the
Old Town Kemptville BIA Facebook page
. Deadline for colouring sheets to be returned is Saturday, April 1st at 1pm.
Details
Date
April 1, 2023
Time
10:00 am - 1:00 pm
Location
1 Water Street, Kemptville
Website
https://www.facebook.com/OldTownKemptvilleBIA
Event Organizer
This email address is being protected from spambots. You need JavaScript enabled to view it.

Are you organizing a community event that should be on the municipal calendar?
Let us know!