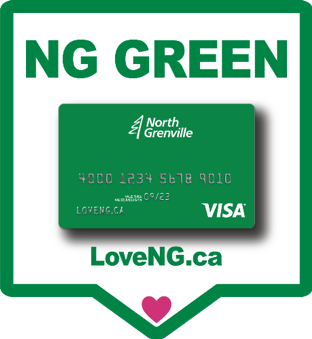 Important Notice: NG Green Gift Card Expiring August 23, 2023
We hope you're enjoying the benefits of your NG Green Gift Card and supporting our local businesses! As a valued participant in this initiative, we want to remind you that your NG Green Gift Card will be expiring on August 23, 2023. We want to ensure you are aware of this expiration and have the opportunity to utilize the full value of your card.
Don't let the remaining value on your NG Green Gift Card go to waste! Take this chance to indulge in a delightful dining experience, treat yourself to a shopping spree, or enjoy the services offered by our talented professionals.
Need Assistance? Contact Us!
We understand that unexpected issues can sometimes arise. If you're facing any challenges or have questions regarding your NG Green Gift Card, we're here to help! Our dedicated team at the Municipality of North Grenville is available to provide support and assistance.
Email: This email address is being protected from spambots. You need JavaScript enabled to view it.
Phone: 613-258-9569 ext 153.
What businesses take the NG Green Card?
You can find all the participating businesses in the business directory (loveng.ca)! Redeem it at any of the businesses that have the label "Accepts NG Green".
View a list of participating businesses or click on "Accepts NG Green" in the Filter on the Business Directory page.
Activating your card and checking your balance