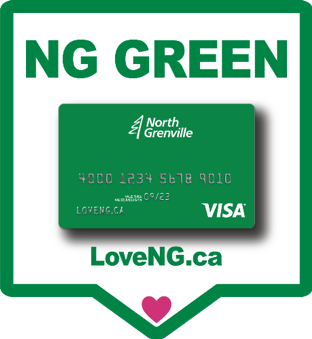 THE PERFECT GIFT
Give the perfect gift…the gift of BUYING LOCAL, with NG Green Gift Cards!
Now you can purchase NG Green Gift Cards to pay for local goods and services. It works like any other pre-paid Visa card, but only at participating North Grenville businesses – a convenient way of keeping our money in our own community!
Consider giving a gift card for:
Any celebration - e.g. Mother's Day, Father's Day, anniversary, or birthday
A significant milestone - e.g. graduation, retirement
Employee gifts
Thank you gifts or end-of-school-year gift for a teacher or bus driver
The holiday gifts, the Easter bunny loves supporting local!
It's also great for teens to use at the coffee shop or maybe for a slice of pizza or even carry one yourself to have on hand when you're shopping locally.
The program features a special 10% discount incentive.
Buy a $50 card and pay only $45!
$25 cards only cost $22.50!
What businesses take the NG Green Card?
Activating your card and checking your balance
Request to Become a Merchant