March Break Program at Southgate Church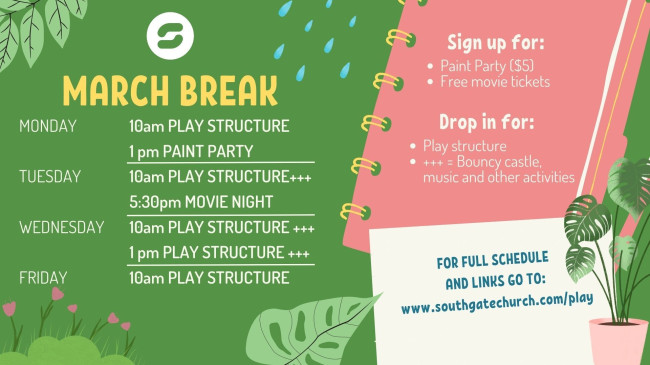 Have some fun with your kids this March Break with drop-ins and events at Southgate!
Morning play structure drop-ins run from 10am-12pm. No need to RSVP, simply drop in and see if there is room. Waiting area in the lobby will be available. Wednesday afternoon drop-in is 1-3pm.
Monday at 1pm we will have a paint party! The cost is $5 per child for materials, which are included along with instructions. Register here:
https://southgatechurch.churchcenter.com/registrations/events/1646258
Tuesday we have a free double theatre movie night to enjoy on the Tuesday of March Break! Both exciting movies are PG so kids and teens are welcome; some families may even want to split up and send younger ones into the animated movie theatre.
Doors open at 5:30 with the bouncy castle, play structure, and concession with snacks and drinks open. The Call of the Wild starts at 6:10, and Wonder Park starts at 6:30. Get your tickets here: https://southgatechurch.churchcenter.com/registrations/events/1646147
Tuesday and Wednesday we will have Play Structure, where kids can rotate between the play structure, bouncy castle, some crafts and other activities set up for free time, and even a music time.
Friday at 10am we are open for regular Play Structure drop-ins.
NoGo coffee shop will be on-site Tuesday, Wednesday and Friday. Feel free to bring snacks and drinks, or purchase from NoGo if on site.
Details
Date
March 16, 2023
Time
10:00 am - 12:00 pm
Location
Southgate Church, 1303 French Settlement Rd, Kemptville
Event Organizer
This email address is being protected from spambots. You need JavaScript enabled to view it.