Mental Wellness and Reconnection with Nature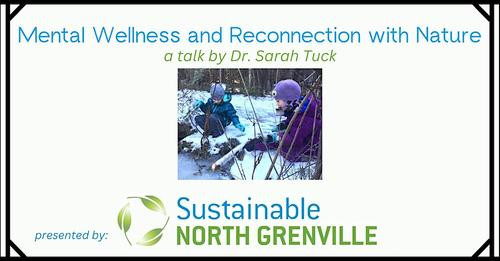 A Talk on Mental Wellness and Reconnection with Nature by Dr. Sarah Tuck
COVID precaution: Attendance limited to 35 people, 18 and older.
A mental health crisis plagues North American culture at the same time that the climate crisis rages. Is it our gradual separation from the natural environment that has led to both? And could it be that the simple act of reconnecting with nature could offer a solution for both?
Until very recently, the field of Psychology and its related therapies have focused almost exclusively on individual and social/cultural factors to explain and "correct" behaviour. A newer field called Ecopsychology highlights the deep connection between the human and non-human.
By applying this model in the mental health field (and across other disciplines), there's a world of possibility when it comes to healing the suffering of both the mind and the natural world. Sarah Tuck is a local doctor practicing psychotherapy and hospice care. She is especially interested in the crossroads of mental health and ecological health. She finds peace and connection in the forest and hopes to share that love with her kids and with others.
Advance registration required via Eventbrite: https://www.eventbrite.ca/e/a-talk-on-mental-wellness-and-reconnection-with-nature-by-dr-sarah-tuck-tickets-563538347367?aff=ebdsoporgprofile
Details
Date
March 21, 2023
Time
7:00 pm - 8:30 pm
Location
380 Colonnade Drive, Kemptville
Website
http://www.sustainablenorthgrenville.ca/

Event Organizer
This email address is being protected from spambots. You need JavaScript enabled to view it.