Saint Lawrence Sword Fighters Guild - Candidate Program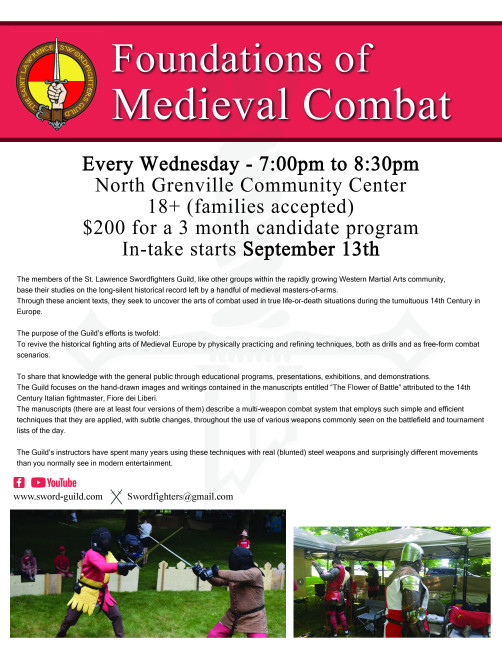 18+ (families accepted)
$200 for a 3 month candidate program
In-take starts September 13th
The members of the St. Lawrence Swordfighters Guild, like other groups within the rapidly growing Western Martial Arts community, base their studies on the long-silent historical record left by a handful of medieval masters-of-arms.
Through these ancient texts, they seek to uncover the arts of combat used in true life-or-death situations during the tumultuous 14th Century in Europe.
The purpose of the Guild's efforts is twofold: To revive the historical fighting arts of Medieval Europe by physically practicing and refining techniques, both as drills and as free-form combat
scenarios.
To share that knowledge with the general public through educational programs, presentations, exhibitions, and demonstrations. The Guild focuses on the hand-drawn images and writings contained in the manuscripts entitled "The Flower of Battle" attributed to the 14th
Century Italian fightmaster, Fiore dei Liberi. The manuscripts (there are at least four versions of them) describe a multi-weapon combat system that employs such simple and efficient techniques that they are applied, with subtle changes, throughout the use of various weapons commonly seen on the battlefield and tournament lists of the day.
The Guild's instructors have spent many years using these techniques with real (blunted) steel weapons and surprisingly different movements than you normally see in modern entertainment.
Details
Date
October 25, 2023
Time
7:00 pm
Location
North Grenville Municipal Centre, 285 County Road 44, Kemptville
Website
https://sword-guild.com/
Event Organizer
This email address is being protected from spambots. You need JavaScript enabled to view it.