Smiles on Us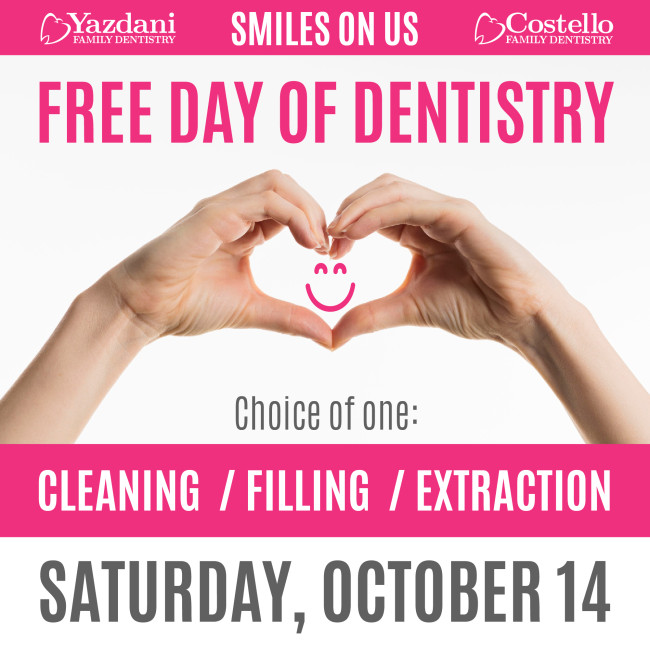 At Yazdani Family Dentistry and Costello Family Dentistry, we are committed to providing dental services to those who can't afford them.
This is why we hold a special event every year called Smiles on Us.
WHEN?
Saturday, October 14, 2023, from 8:00am-3:00pm
Registration opens at 7:30AM
On our free day of dentistry, you can choose one of the following services:
Cleaning

Filling

Extraction
Appointments are booked on a first-come, first-served basis. To get your appointment, come to one of our 3 offices (Kemptville, Kanata, Carleton Place) on the day of the event at 7:30 AM to reserve your appointment time for later in the day.
Kemptville: 115 Sanders Street
Kanata: 650 Kanata Avenue, Unit K4, Kanata Centrum
Carleton Place: 6 Costello Drive
Patients are welcome to leave and return 30 minutes prior to their appointment times, or they are welcome to wait in line. If patients are not back in time for their reserved appointment, their appointment will be forfeited and given to the next person in line.
There are various programs offered to the community to help children with dentistry. This is why we focus our Smiles on Us — Free Day of Dentistry event on adults. We will only be serving patients 18 years and older. You DO NOT have to be a current patient to receive services.