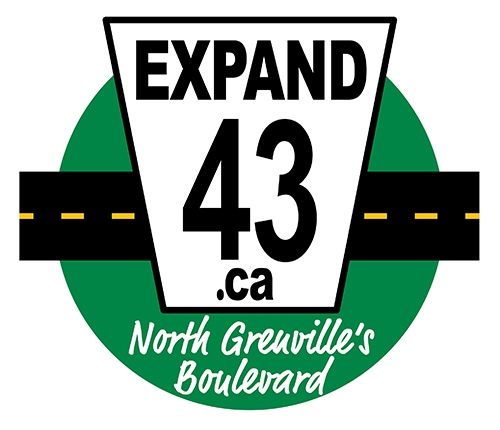 Expand 43 – North Grenville's Boulevard
At the December 6, 2023 meeting, a unanimous vote of United Counties of Leeds and Grenville Council, the long-awaited tender for the County Road 43 Rehabilitation Project was recommended for approval for R.W. Tomlinson Limited. Read more [coming shortly].
CR43 Expansion Joint Project:
A joint partnership between the United Counties of Leeds and Grenville and the Municipality of North Grenville, the CR43 Rehabilitation project expand approximately 2 km of existing roadway to four-lanes, from Colonnade Mall through Kemptville to County Road 44. It also includes the construction of a new four lane bridge across Kemptville Creek.
The expansion of CR43 into a well-lit boulevard will incorporate pedestrian and cycling pathways, safe crossings, ample lighting, as well as trees and landscaped roundabouts and medians.
Phase 1 - construction of a brand new, two-lane bridge - will commence in 2024.
County Road 43 is the major thorough-fare through Kemptville.
The Municipality of North Grenville envisions the road expansion to showcase the community and encourage visitors to explore. A four-lane Boulevard with roundabouts and other pedestrian crossings will allow for improved flow of vehicular traffic, increase safety, and better service active modes of travel for pedestrians and cyclists.
Improved lighting along the Boulevard will increase safety, and the addition of trees will enhance the experience when traveling along the road.
A Boulevard expansion would enhance a healthy, livable and safe community.
Jill Sturdy
Corporate Media Relations Officer
This email address is being protected from spambots. You need JavaScript enabled to view it.
613‑258‑9569 ext. 168
Timeline
UCLG awarded the project to McIntosh Perry
June 2022
McIntosh Perry presents to Council
October 2022
UCLG Awards Tender to R.W. Tomlinson Limited
December 2023
Phase 1
2024
Construction of a brand new, two-lane bridge