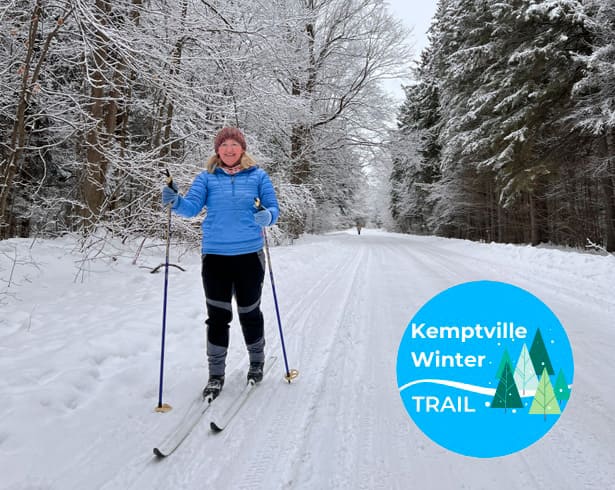 "If you choose not to find joy in snow,
you will have less joy, but the same amount of snow."
Experience the Kemptville Winter Trail - a groomed snow trail in the Ferguson Forest.
Managed by the local cross country ski club, this is a wide, multi-use trail is groomed for skis, snowshoes, bicycle or even walking.
Guest blog by Matthew Loguisto
Winter is what you make it. And some can't get enough of our cold, snowy season!
The Kemptville Winter Trail offers cold weather enthusiasts an opportunity to get outside on a beautifully groomed trail under the trees of the Ferguson Forest.
Step out with your skis or snowshoes in the stillness of the early morning, just as the sunrise lights up the day. Loop through the arboretum or around the tree nursery, or venture further through the forest trails.
These trails are flat and suitable for skiers of all levels.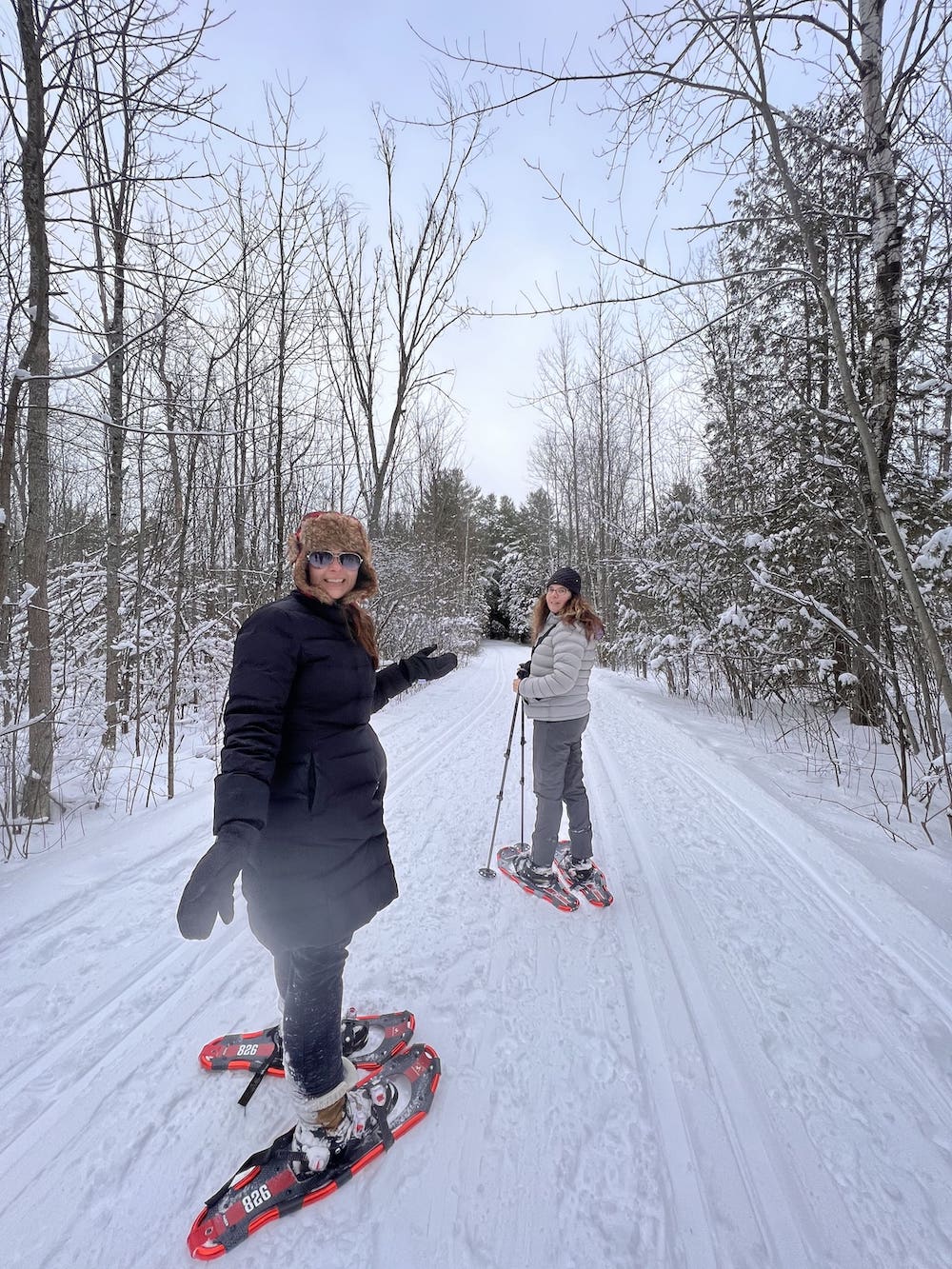 How to Find the Trail
Address: Honour Way, Ferguson Forest Centre, County Road 43
GEO COORDINATES: 45.0324561, -75.6486683, Kemptville, ON, Canada, K0G1J0
The multi-use Kemptville Winter (KeWi) Trail is located in the heart of Kemptville within the boundaries of the Ferguson Forest Center (FFC).
The trailhead can be found at the Arboretum parking lot across from the dog park with a secondary access point near the FFC buildings and the Municipal centre, giving trail users a choice of where to start their trail journey.
KeWi currently offers roughly 5.5km of groomed free-use trails through the open areas of the FFC arboretum and the tree nursery roads, as well as a beautiful section that goes into Ferguson Forest itself.
Trail Etiquette and Conditions
Travel the trail with
cross country skies,
snowshoes,
fat bikes,
or just the boots on your feet,
The use of this widely groomed trail is free and open to all these forms of active transportation. And because of this, organizers ask that you follow the etiquette guideline sto ensure the trail remains in good condition for all to enjoy.
Trail Condition Updates
Trail users can get a good idea of what the trail is like before heading out.
KeWi makes regular trail condition updates on their Facebook page so so trail users can have a
good idea of what the trail is like before heading out.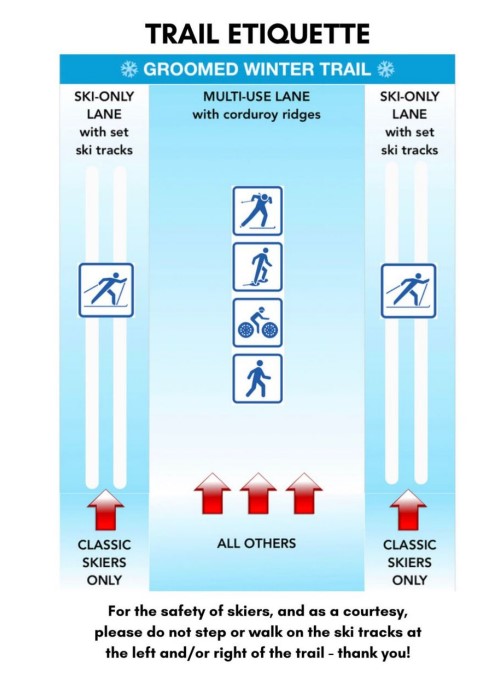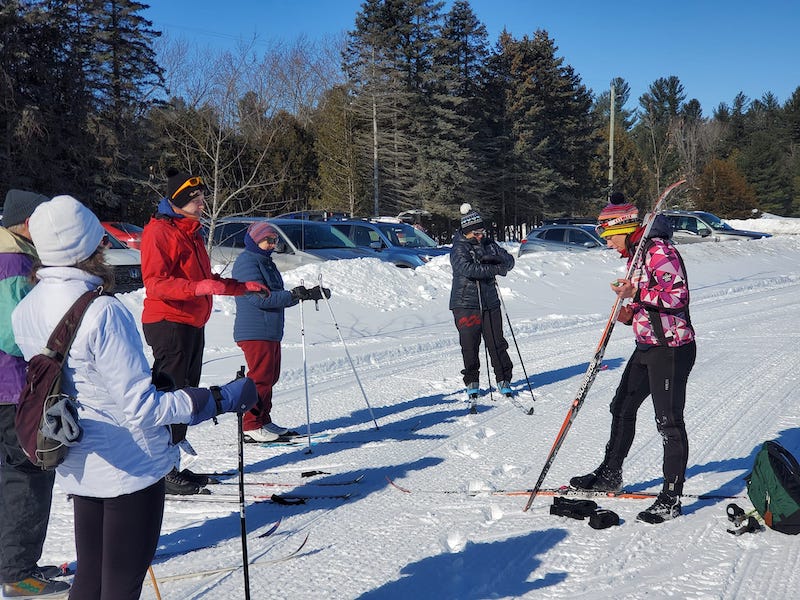 Kemptville Winter Trail Ski Club (KeWi)
Kemptville Winter Trail is also a registered ski club with Nordiq Canada, with a membership base that anyone can join by paying a modest annual fee. KeWi members gain access to membership-only perks such as discounts on event entry fees and purchases made at select local and Ottawa-based businesses.
Membership fees provide the insurance that allows the Kemptville Winter Trail to operate seasonally and the rest are split between Kemptville Winter Trail, Cross Country Ski Ontario and Nordiq Canada, to help fund cross-country skiing at the local, provincial and national levels.
Beyond club membership, KeWi is dependent on
donations from club members,community members and businesses,
various municipal and community grants, and
the volunteer efforts of board members, trail groomers, trail ambassadors and others.
The generosity of this combined community support has allowed KeWi to be so successful in its first years of operation. The committee is grateful for all support, and continuing support is necessary to ensure it remains so.
Special Events
In 2022 Kemptville Winter Trail held its first special event, thanks to the generous involvement of former international biathlon ski racer and international loppet racer Karen Messenger.
Karen, who grew up in Kemptville and first learned to ski on the trails in Ferguson Forest, conducted three instructional classes on classic and skate cross-country skiing (CXS) for youths and adults, Participants' donations went to help KeWi maintain and grow the trails.
Watch for more events that are in the works for this winter season. Like and make the Kemptville Winter Trail's Facebook page a favourite to receive updates and notifications.