Summer brings another exciting season of cycling here in Kemptville and the hamlets of North Grenville. Last year, over 160 people participated in a charity ride from Ottawa to Brockville to raise funds and awareness for Multiple Sclerosis (MS). Organized by MS Bike, the 80-100 km trip and back passes through the communities of Kemptville, Oxford Mills, and Bishops Mills. Don't let the small-town feel deceive you; there is so much to see along the way!
MS Bike has raised over $135 million in support of those affected by MS. Thousands of people through hundreds of rides are helping to create a world free of MS! Money raised with MS Bike has helped fund programs such as virtual wellness programs, 1:1 Peer Support, and the MS Knowledge Network.  
Whether you're riding for a good cause with MS Bike, or you're here just to Pause, Breathe and Unwind here in North Grenville, here are our recommendations on route for you to visit!
The MS Bike Ride from Ottawa to Brockville begins and ends at the Kars Community Recreation Center. Whether it be a reward for completing your first 20 kilometers, or a boost for your final 20 kilometers, ice cream is always a good idea. Located on King Street, the Kemptville Dairy Barn & Western Keto Grill (Yes! Now fully gluten free) is the place to go for an ice cream treat. With a large patio area and plenty of space, the dairy barn is perfect for a quick stop on your bike.
Use the brand-new Multi-Use Pathway (MUP) paved from Settler's Grant trail entrance, which takes a left turn to cross in front of Fire Station One, where it then goes all the way down to the Shoppers Drug Mart on Country Road 43. There you can then use a controlled crossing to make your way onto the wide paved shoulder on the right side of the road. You should see a red barn with an "ice cream" feather flag further down the road; you can't miss it!
Partially paid for by the Ontario Municipal Cycling Infrastructure Program, the Kemptville MUP has proven to be a popular area for road biking, running, and walking (including dogs! Please keep your furry friend on a leash). We hope this safe and convenient MUP leaves a good impression on you!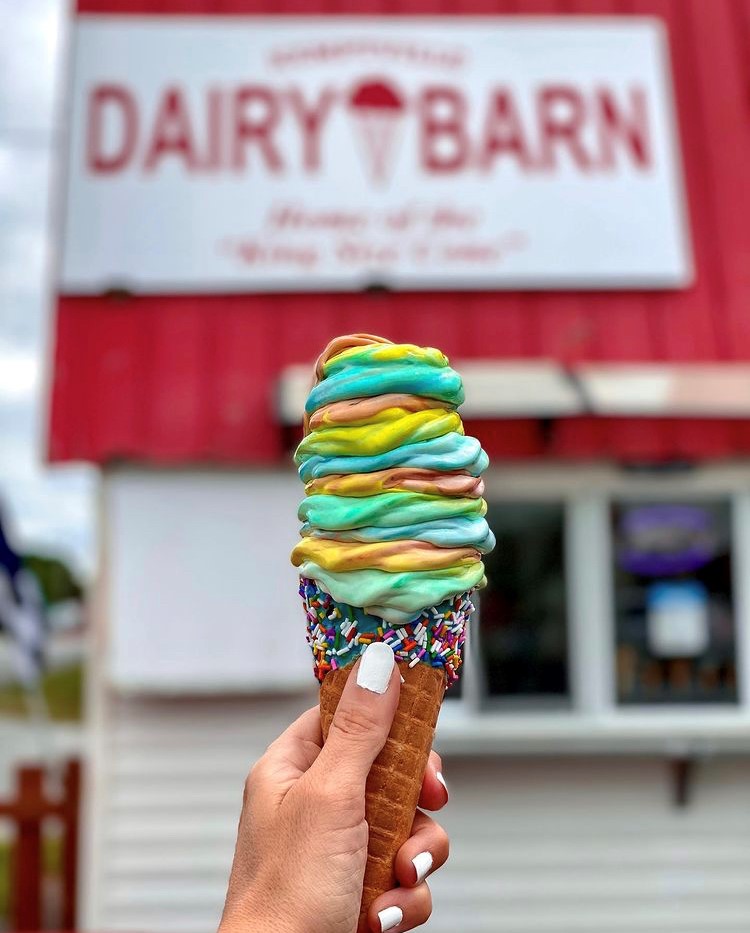 Only open on Sundays, the Kemptville Farmers' Market is a must visit if you're on a bike. With local fruits and vegetables, meats, herbs, flowers, snacks, baked goods, beverages, honey and maple products, preserves, ethnic cuisine, arts & crafts, and so much more, be sure to grab a snack for the road! Located right in the parking lot of the B&H Grocer, the Kemptville Farmers' Market runs every Sunday from 12 p.m. to 4 p.m. from mid-May until the end of October. Dismount and walk your bike through the aisles or find a bench to sit with your team!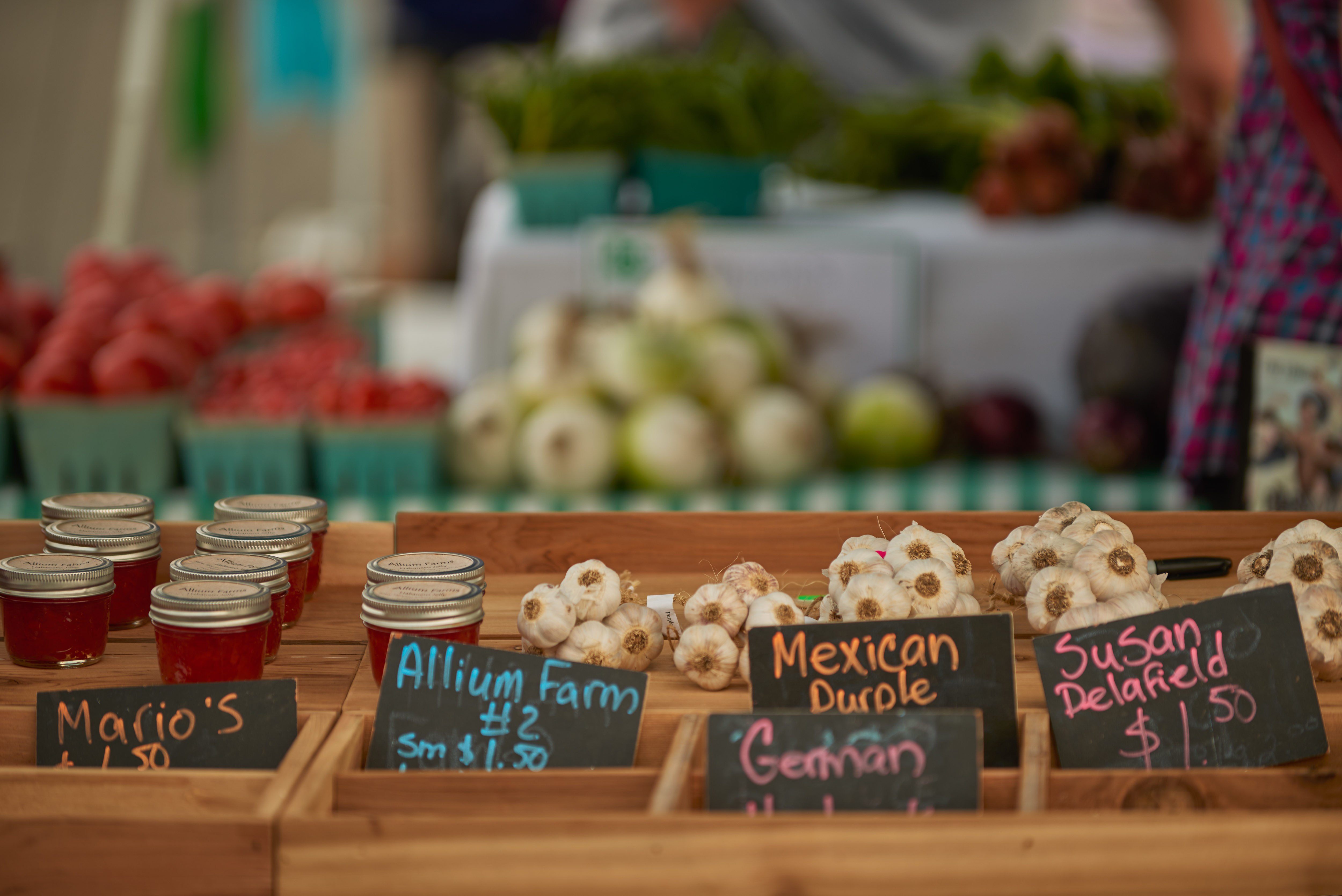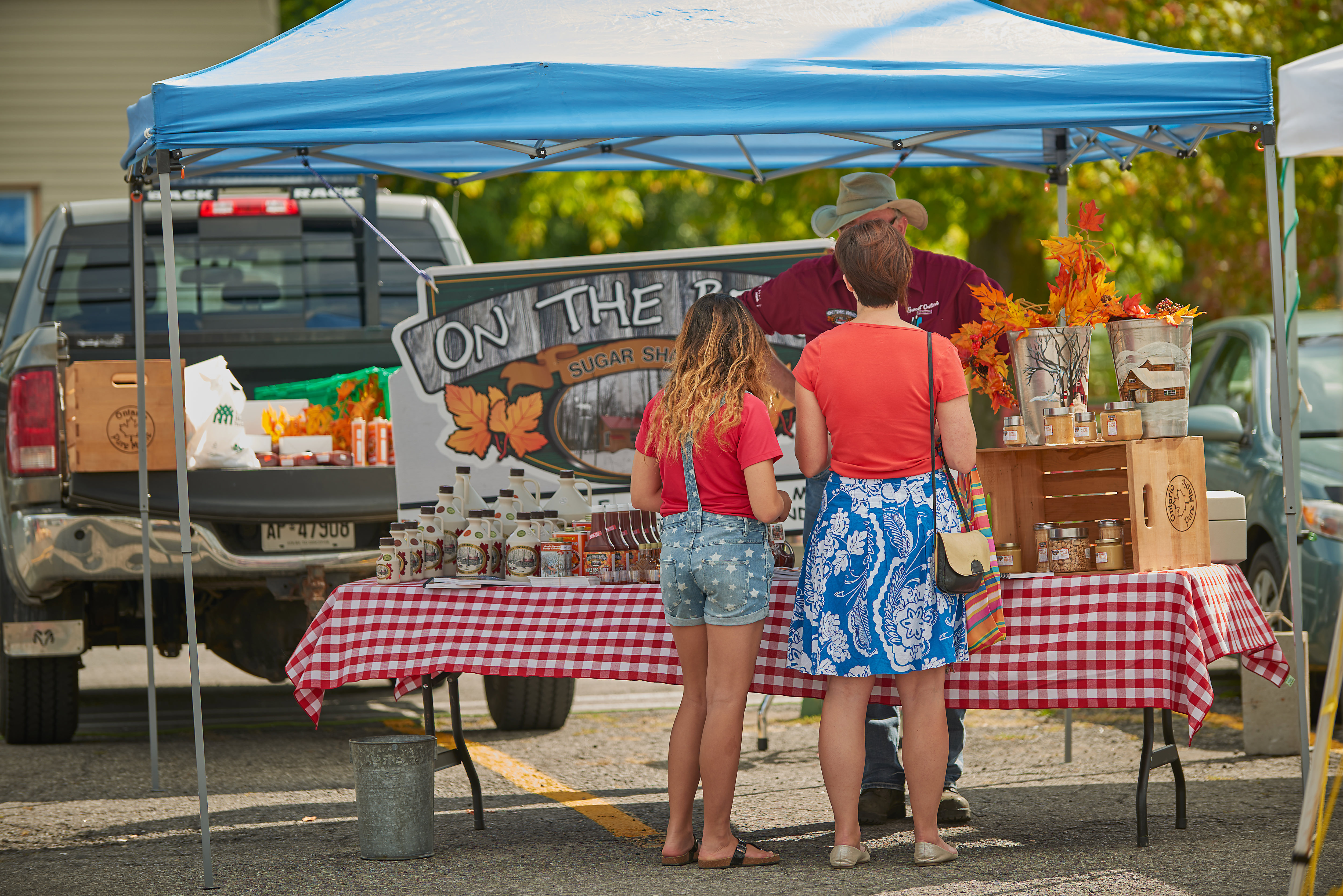 From the Dairy Barn, take the quiet residential streets on King Street, then onto Maley Street towards Sanders Street. Sanders Street is narrow and relatively busy, but with the posted limit of 40 kilometers an hour, riding in the primary position should hold cars behind you and prevent any dangerous passes.
Looking for lunch? Head into Salamanders for a patio lunch right on the bank of Kemptville Creek! Specializing in Cajun-Acadian fusion, this Ontario By Bike certified pub is an exciting waterfront destination for cyclists passing through Kemptville. A brand-new Kayak dock was put in this May; get up close with the water before heading back on the road! Don't forget to check out the giant Adirondack Chair located next door at Rotary Park, next to the iconic clock tower.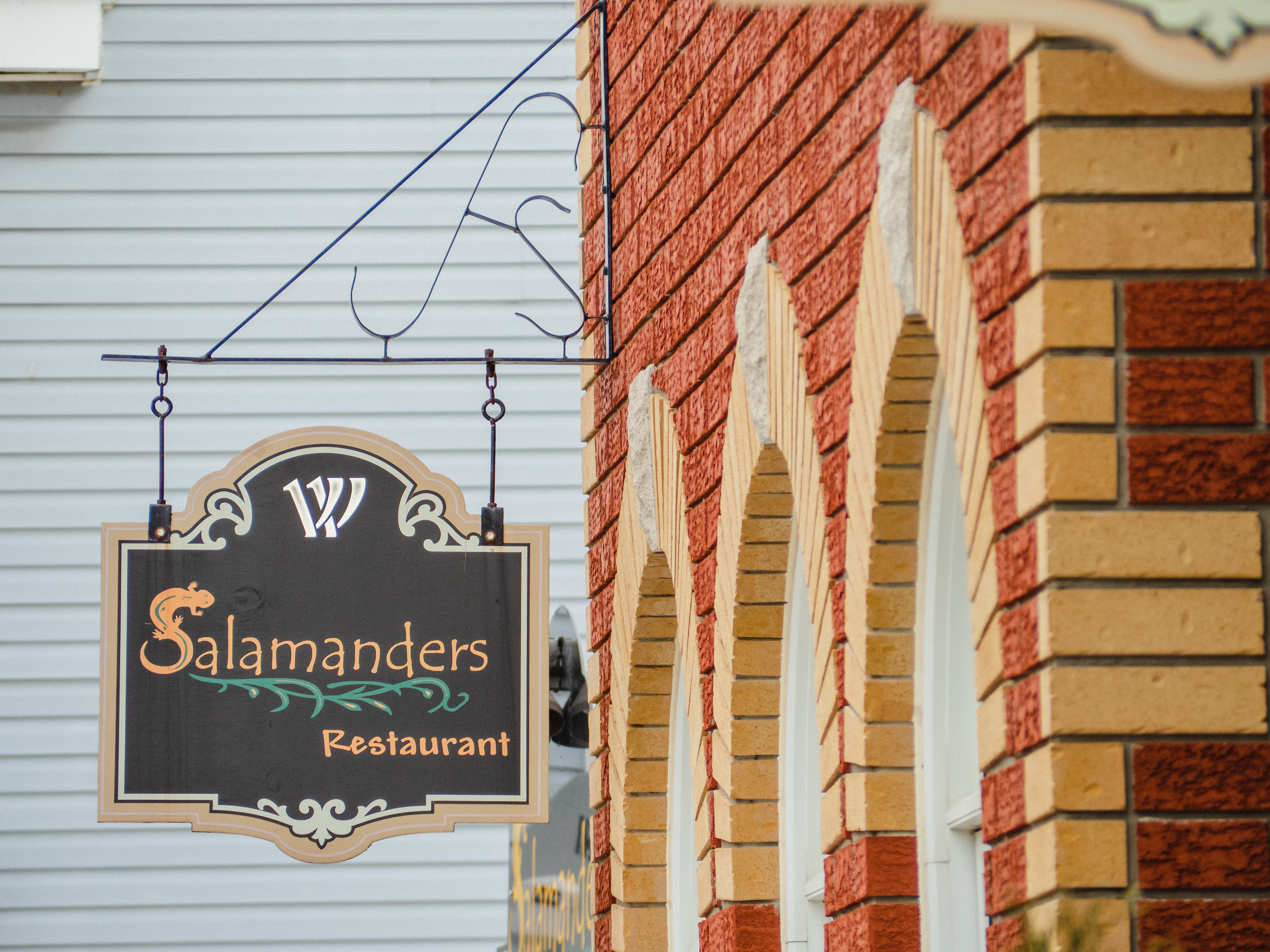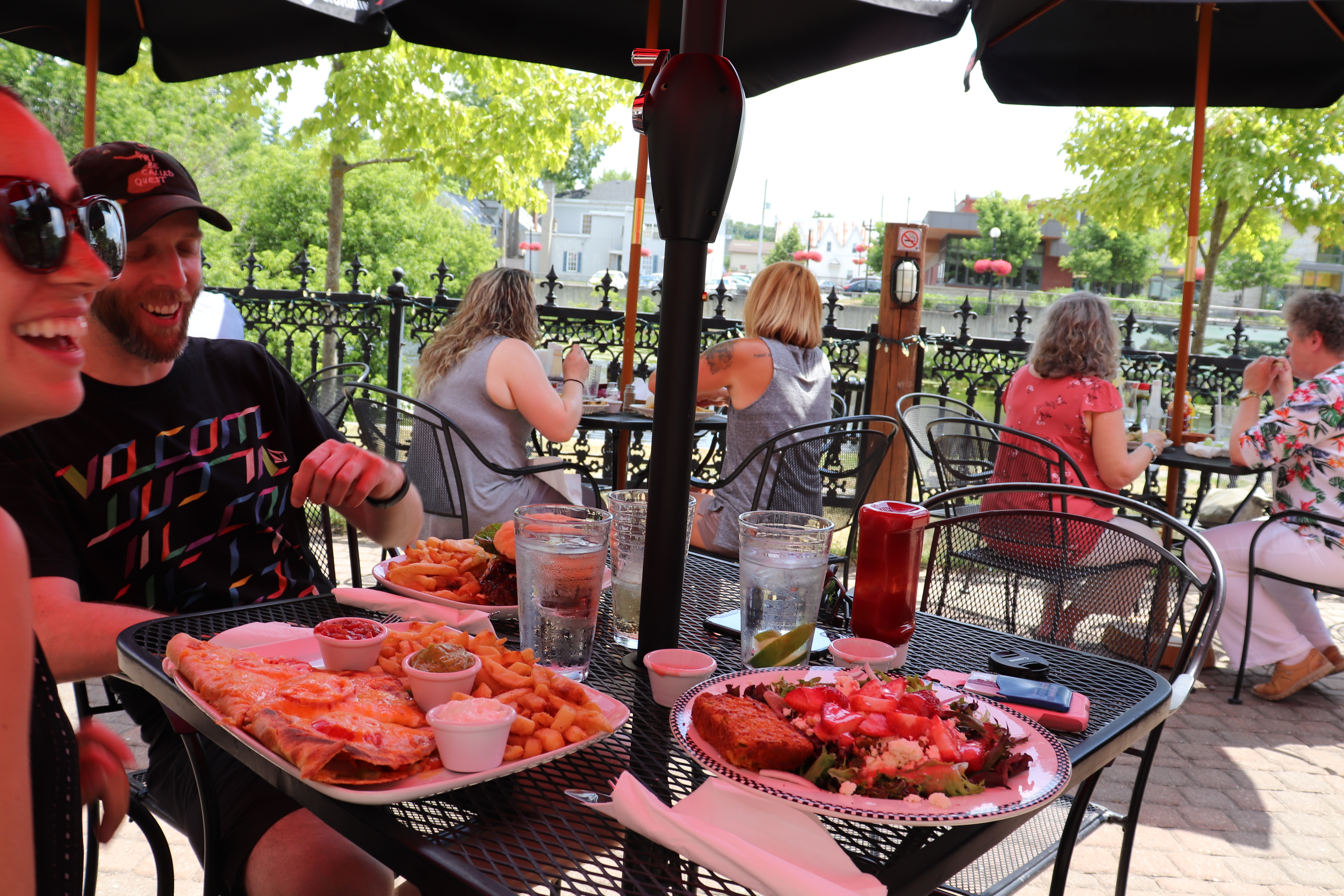 From Salamanders, head southwest on Clothier Street. Use the wide shoulder but take caution and keep a safe distance from parked cars; doors may swing out and hit you if the person exiting the vehicle doesn't check for traffic. Clothier Street eventually becomes Country Road 18.
Heading south-west down Country Road 18, you will reach the quaint village of Oxford Mills. If an afternoon tea in a stone building from the 1800s fancies you, make a stop at Oxford Mills' famous Brigadoon Restaurant. Take a breather surrounded by flowers on the garden patio while listening to the water flow through the nearby dam on Kemptville Creek. The building of the restaurant used to be a general store as well as a post office for the community; designated under the Ontario Heritage Act in 1997, the current building retains many of the original elements such as part of the timber flooring, counters and a fireproof vault. Before heading back on the road, be sure to check out the second giant Adirondack Chair placed just outside the restaurant!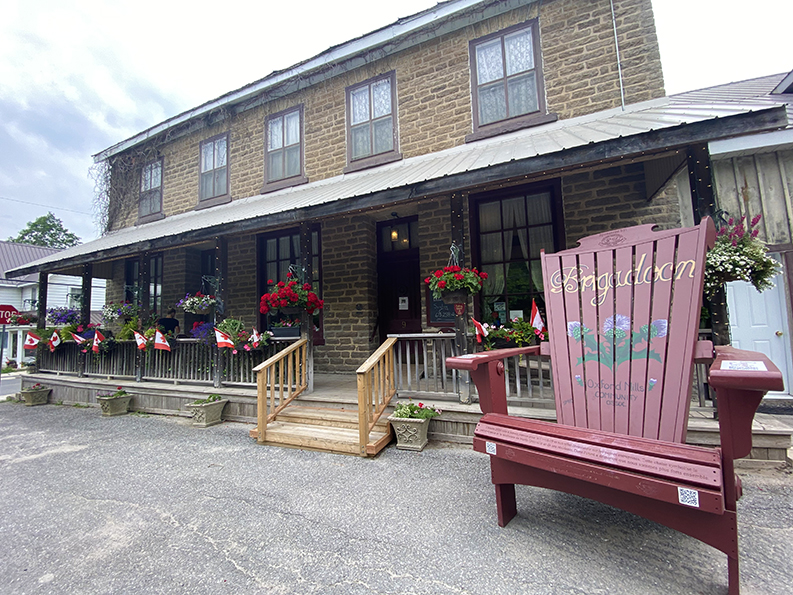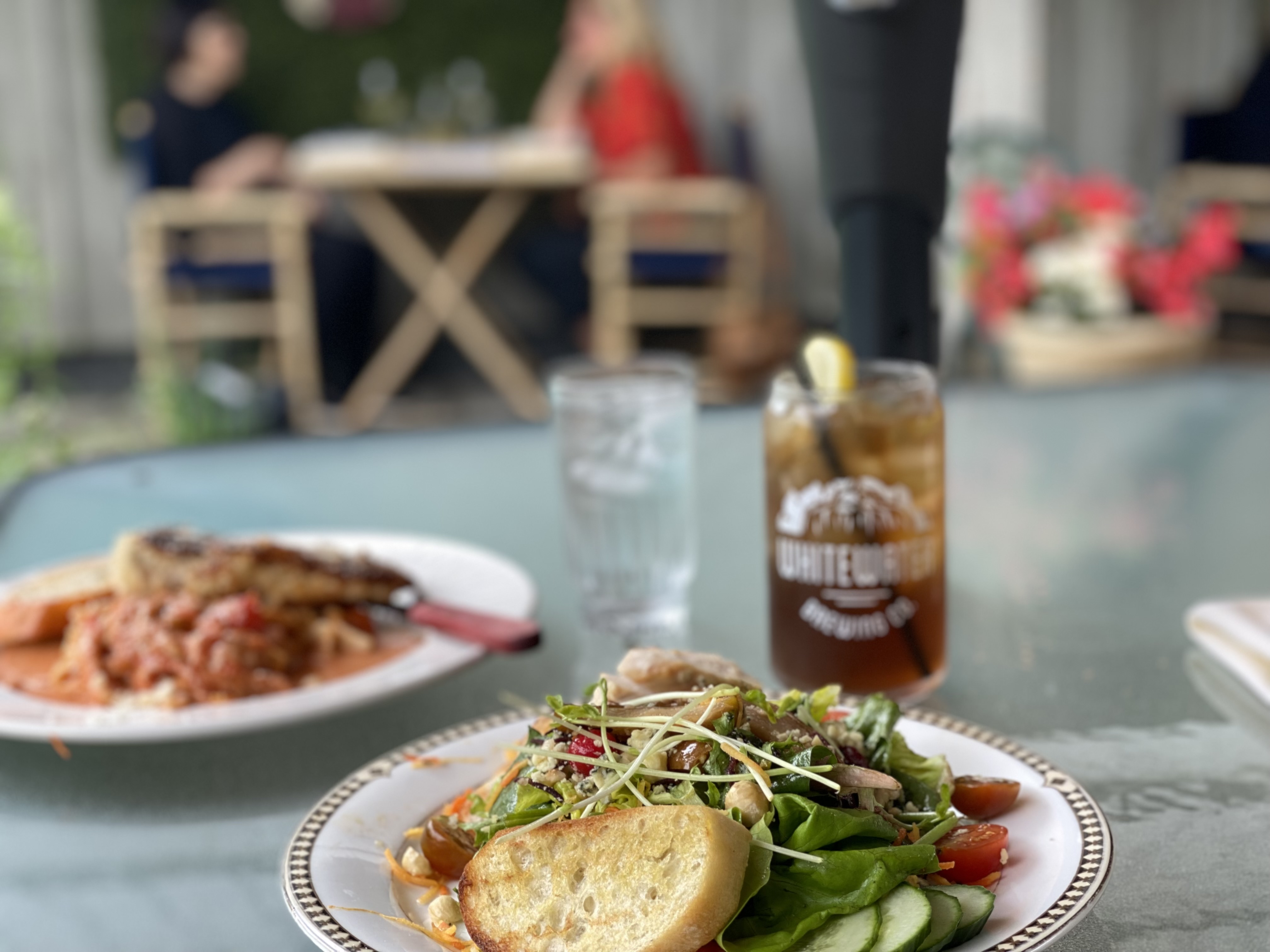 From Oxford Mills, we suggest you stay on the paved roads of Country Road 18 instead of the forested gravel roads of Sanderson Road and Bolton Road.
You're nearing the municipal boundary of North Grenville; why not take one last break at your third giant Adirondack Chair? Located outside of the former Temperance Hall built in 1878, the chair was donated to the community by the Best Adirondack Chair Company. Although we only mentioned three in this guide, there are actually four total chairs placed throughout the municipality. Be sure to visit the Adirondack Chair at the Giving Garden in Kemptville next time you're in the area!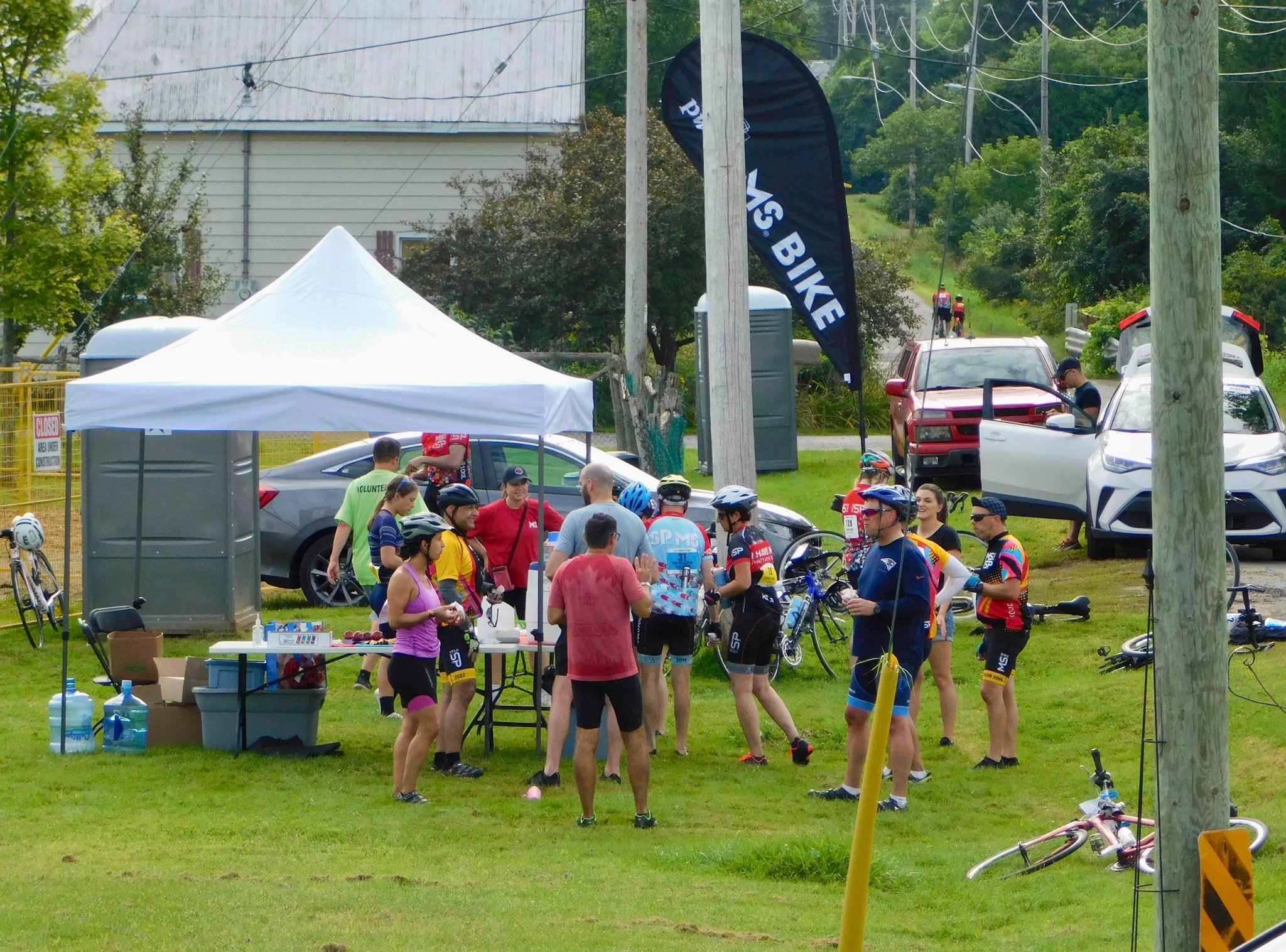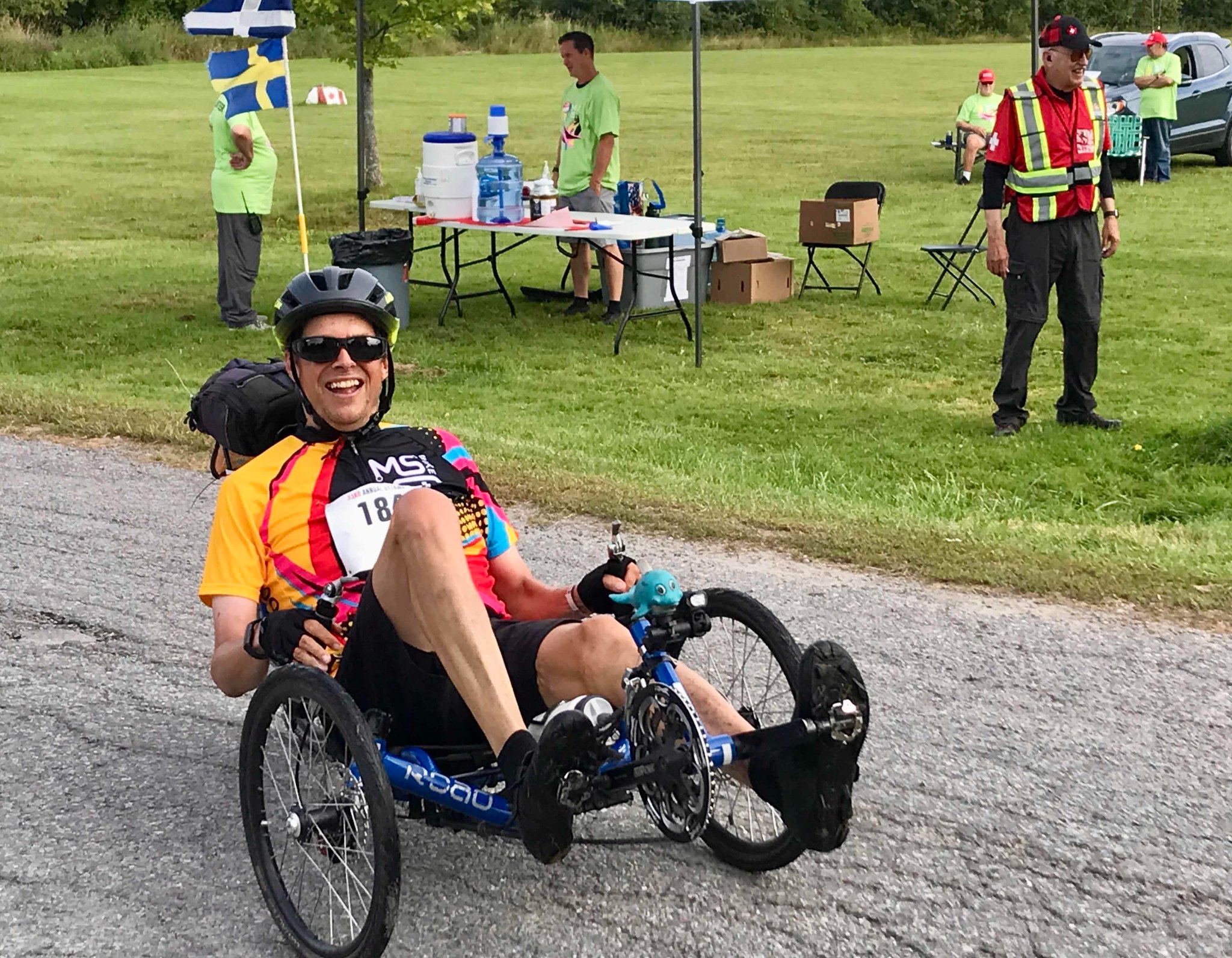 Bishops Mills serves as a support station for cyclists participating in MS Bike. Volunteers are there to provide water, Gatorade and snacks, and technicians are on hand to fix bikes. It's a great way to meet the active and supportive community of Bishops Mills… Come on down to say hi!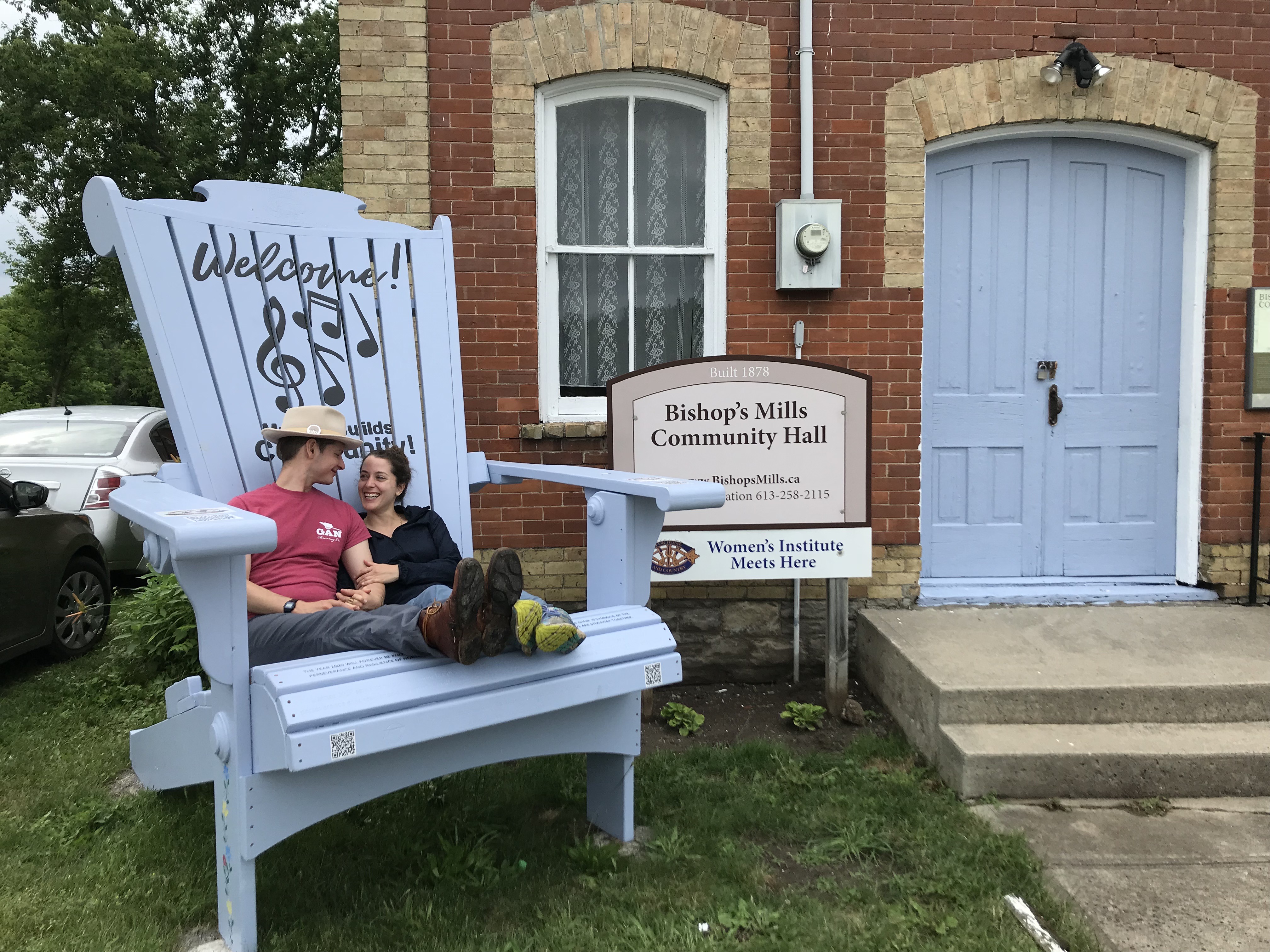 Bonus:
Did you know that Bishops Mill used to have a cheese factory? One of the many ventures the mill built by brothers Chauncey and Ira Bishop attracted in the late 1800s, the factory produced cheese with milk brought there by local farmers. The cheese was then transported to Burritt's Rapids by wagon, where it was then taken to Ottawa by steamboat and further to Montreal for export. In 1924, the cheese factory had a large explosion, audible from kilometers away. Three people were killed that day, including an 11-year-old.
To learn more about the cheese factory and the history of Bishops Mills, check out the brand-new plaque located by the bridge on Mill Street where the factory once stood and visit https://www.bishopsmills.ca/past.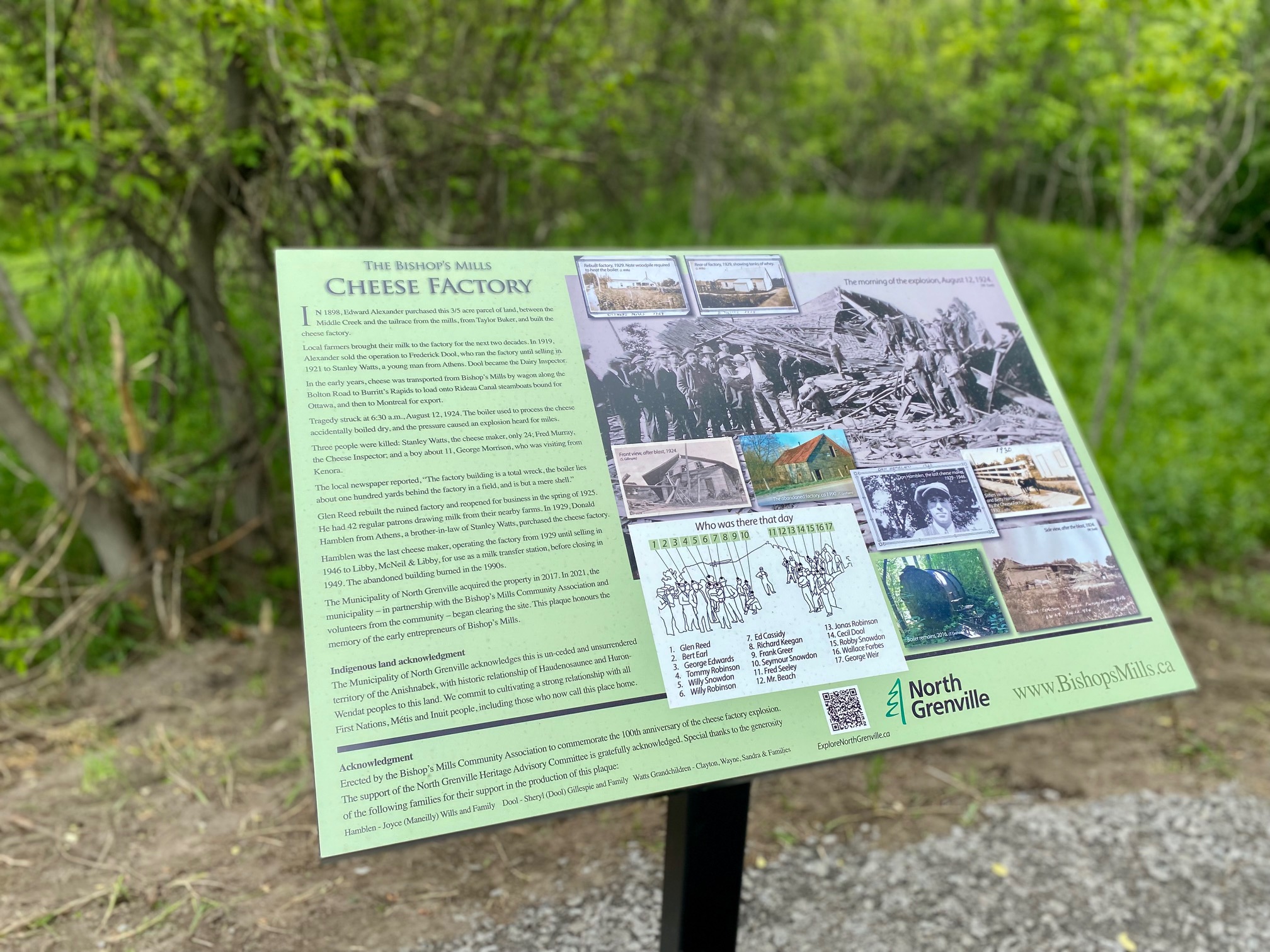 Good luck on the rest of the way to Brockville!
- 30 -