Jack Frost Fair- Kemptville Farmers' Market
The Kemptville Farmers' Market is pleased to welcome you to TWO special Christmas Markets featuring locally produced sauces, foods, clothing, crafts, toys, decor, and art.
Enjoy the festivities:
An array of local artisans, crafters, jewellers, food producers, bakers and so much more.
Dress warmly and bring you
Christmas music
Handmade presents and art pieces
Photo Op / Instagram selfie booth
Good tidings and good cheer
When: Sun. Nov. 12, 2023 AND Sun Dec 3, 2023, 12 p.m. to 4 p.m.
Where: 200 Sanders St. Kemptville - in the B&H Parking Lot
Entrance Cost: Food Bank Donation
Come enjoy a day in Kemptville. Dress warmly and bring your Christmas list!

Christmas on Kemptville Campus
Kick off the Christmas season with an outdoor event filled with holiday fun and celebration. Join My Local Markets as they transform their space at the campus greenhouse into a festive meeting place for the 4rd Annual Outdoor Christmas Market.
Wide variety of vendors selling unique gifts, treats, decorations, and treasures!
Appearances by Santa & friends.
Art Show & Sale - Warm up in the WB George Centre with an Art Show & Sale with artist from the North Grenville Arts Guild
Big Breakfast: Start your Sunday shopping day with a big breakfast at Catered Affairs Call (613) 324-3136 to RSVP Your Seats
When: Sat., Nov. 18 & Sun., Nov. 19, 2023, 11 a.m. to 4 p.m.
Where: 75 Campus Drive, Kemptville, ON K0G 1J0
Entrance Cost: Free and Free Parking on site., (Donations for Beth Donovan Hospice or the Foodbank Christmas campaign gratefully accepted)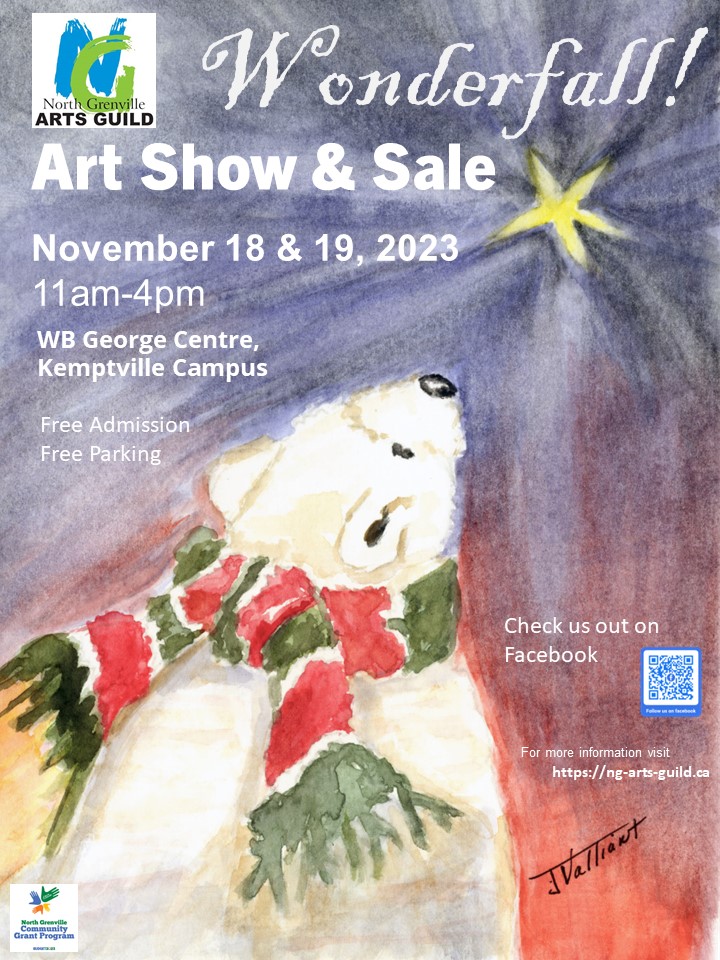 Wonderfall - Art Show & Sale
North Grenville Arts Guild is delighted to be holding an exhibition and sale.
Get a head start on your holiday shopping and enjoy the works of talented local artists and artisans by visiting Christmas on Campus: Outdoor Market & Art Show on November 18 & 19 from 11-4 pm. Wonderfall is running in partnership with My Local Markets and is made possible by a MNG Community Grant Program
When: Sat., Nov. 18 & Sun., Nov. 19, 2023, 11 a.m. to 4 p.m.
Where: WB George Centre, Kemptville Campus, 48 Shearer St, Kemptville, ON K0G 1J0
Entrance Cost: Free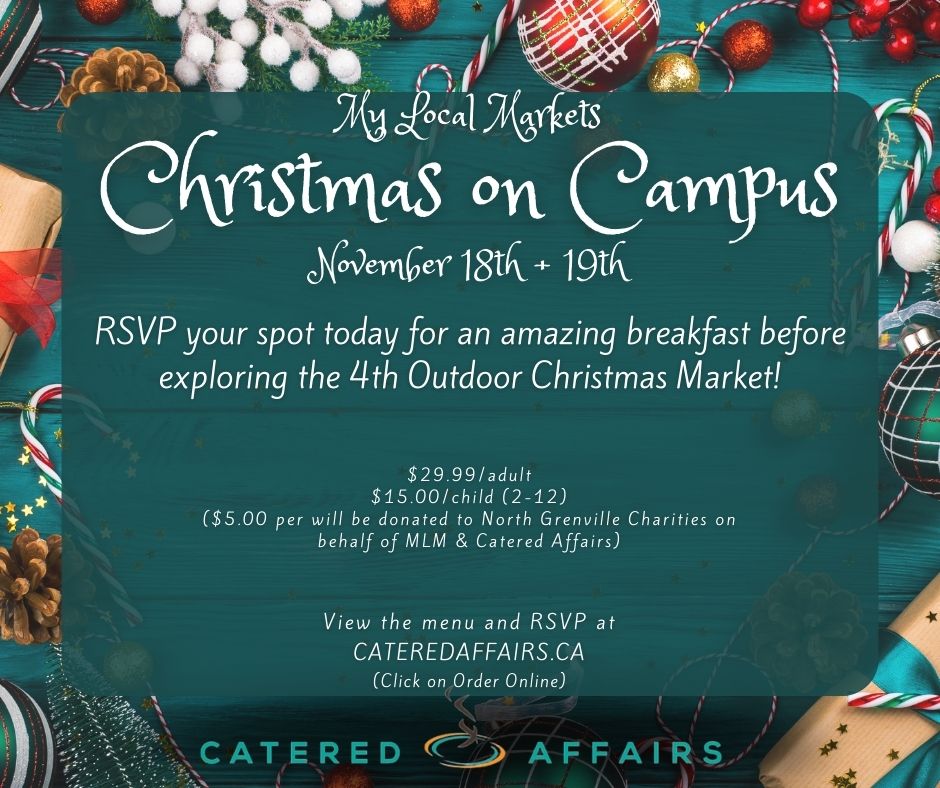 Mistletoe Fair
Mistletoe Fair is a unique non-profit artisans/producers' market featuring local bakers, food producers, chefs, and artisans.
Savour a delicious lunch, enjoy local musical groups entertaining you with seasonal selections, and browse our unique gifts and products.
Finish all your Christmas shopping in one place while having a great holiday experience.
Proceeds will be donated to local charities.
Click to visit the: Mistletoe Fair Facebook Event Page
When: Sun. Nov. 19, 2023, 11 a.m. to 4 p.m.
Where: North Grenville Municipal Centre, 285 County Road 44, Kemptville
Entrance Cost: Free (Donations to the Food Bank Appreciated)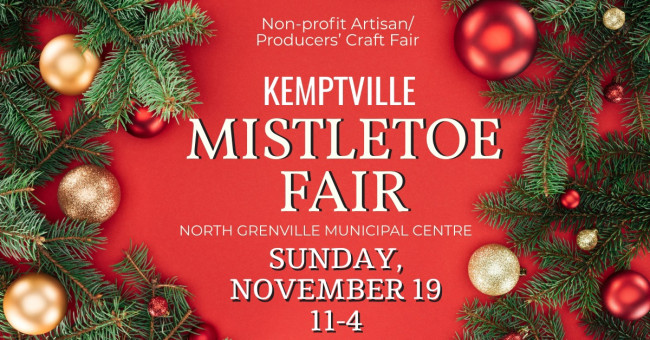 St. Michael's Craft Market
One of Eastern Ontario's largest craftshows, offering something for everybody!
Come make a day of it for:
a wide assortment of wonderful & unique vendors
lots of food, treats and coffee to purchase.
Highland dancers & other performance
a visit from Santa!
When: Sat. Nov. 25, 2023, 9:30am - 3:30pm
Where: St Micheal CHS 2755 County Rd 43 in Kemptville
Entrance Cost: $2 or a food bank donation.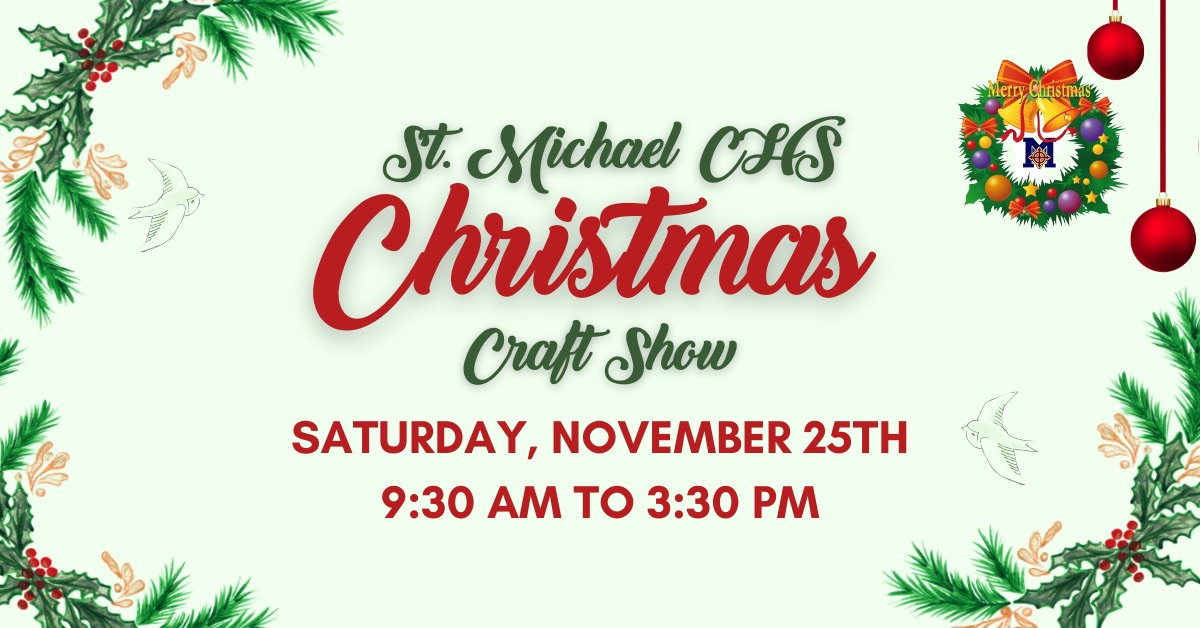 Eastern Ontario Craft and Gift 2-Day Market
Experience this indoor Christmas Market.
Over 40 vendors (different vendors each day)
Food & Drink
Door Prizes
Raffles
When: Sat. Nov 25 & Sun. Nov 26, 2023, 10:00 a.m. - 3:00 p.m.
Where: North Grenville Municipal Centre, 285 CR 44 Kemptville
Entrance Cost: Free & lots of free parking