By guest blogger and local outdoor enthusiast, Melanie Low
On any given Saturday morning you can find me in the forest where year-round adventures are found in North Grenville's plethora of trail options
I really enjoy getting out in the Winter months. Not just a normal snow covered day, but those days where the snow is piled on every branch, and all the trees sag towards the earth with the weight of a heavy snowfall, and twigs and trunks glisten with ice and sparkling crystals of frost.
Throw in big, fluffy, slow falling flakes and I'm there, for sure, finding my way through trails, with a backpack filled with snacks from Brewed Awakenings and a thermos of hot chocolate.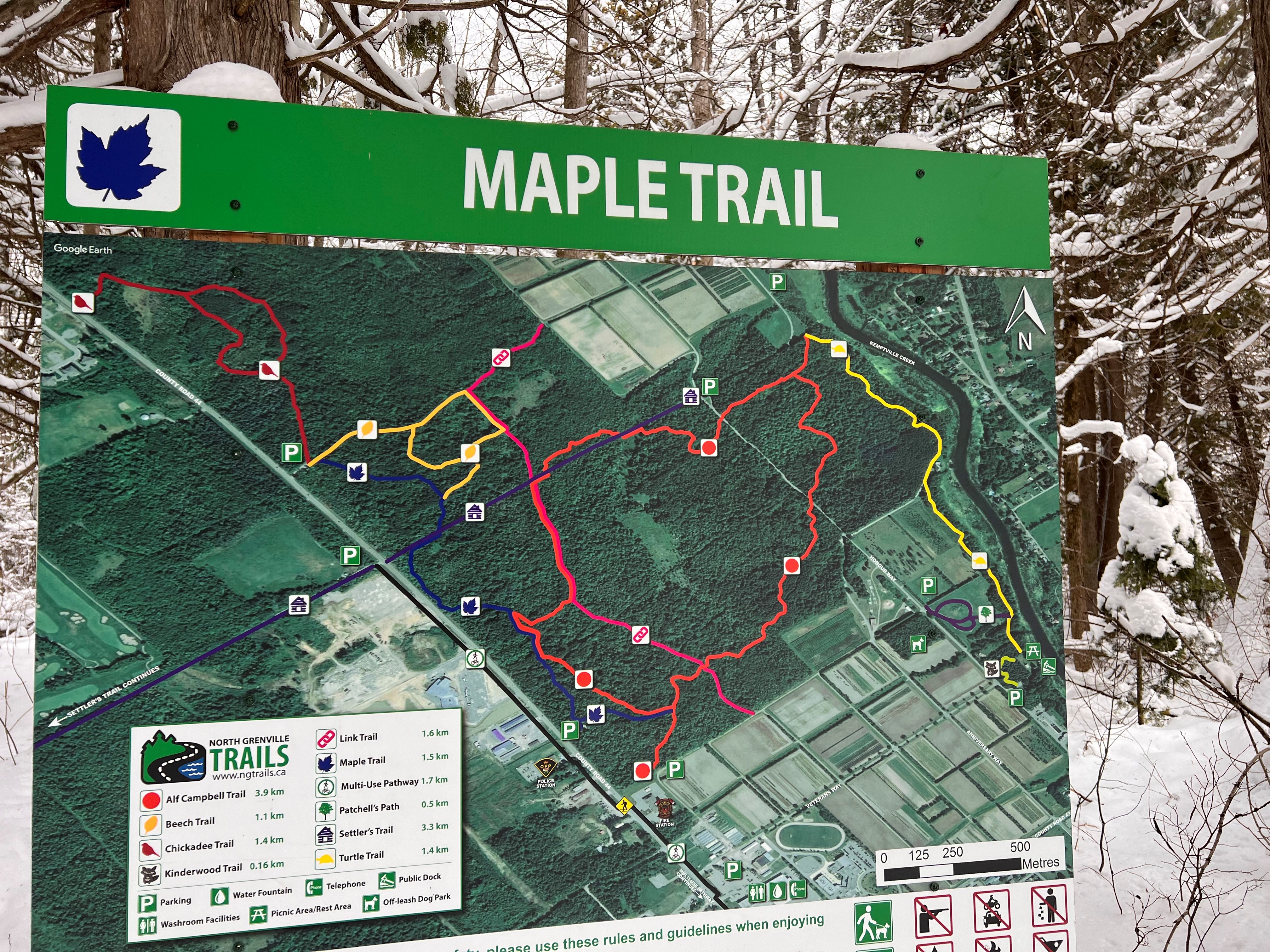 Our family isn't overly sporty, but we do absolutely love snowshoeing. Snowshoeing is easy to master for any age, it's a great activity to work new muscles, and is relatively inexpensive - with pairs costing anywhere from $40 to $120.
Snowshoes are able to keep you from sinking in deep snow by distributing your weight over more surface area, so it's best to choose a size made for your weight. For your kids, make sure not to overburden them with giant snowshoes which can be cumbersome for little legs.
I highly recommend searching local online sale groups for kids snowshoes as youth grow out of them quickly. I love ratchet bindings which are easy to use and allow for quick adjustments on the trail. Most snowshoes will come with a set of optional poles which are great for balance and provide a great upper body work out.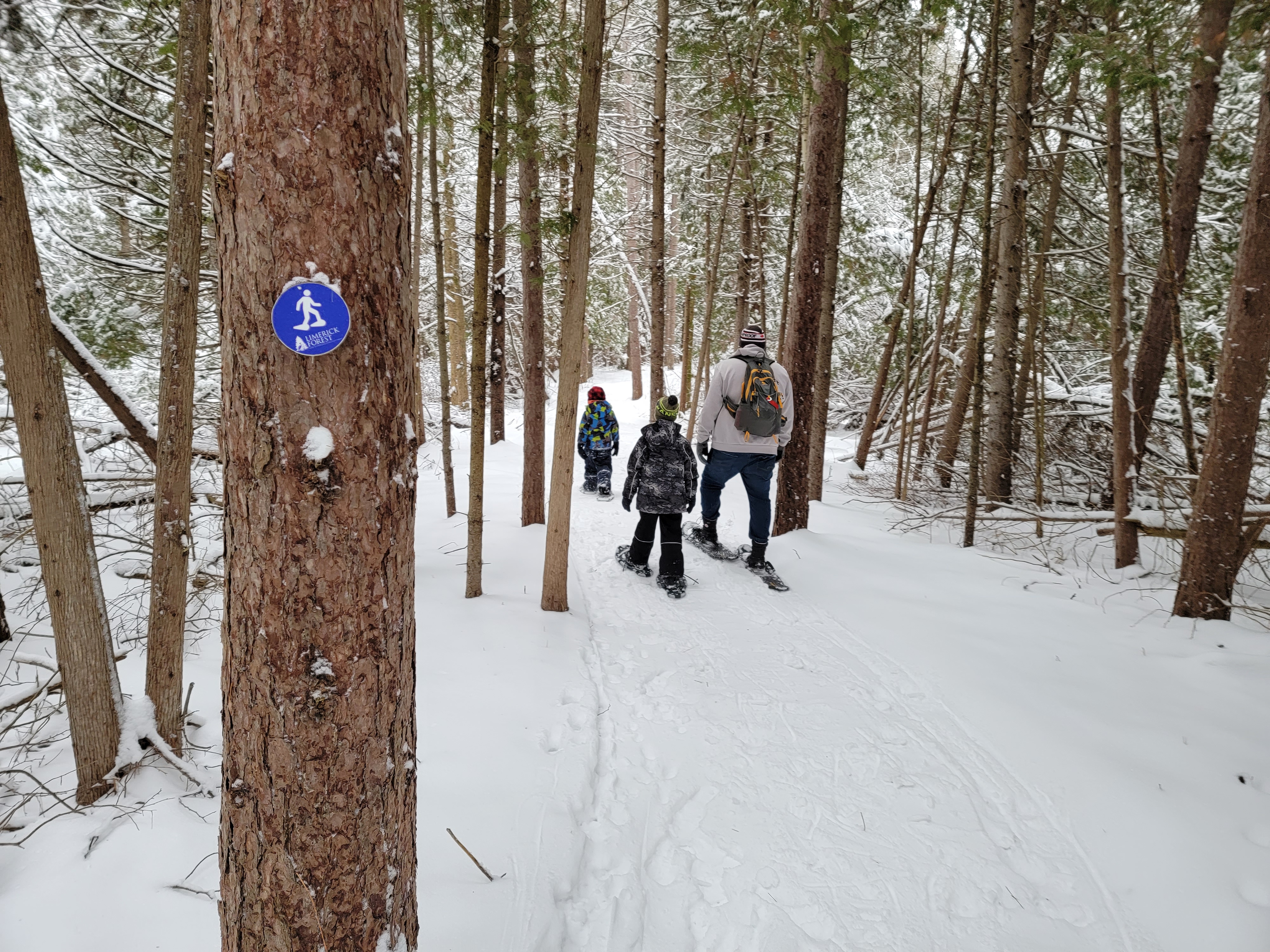 Thankfully after your initial purchase of a good pair of snowshoes you're set to go, but don't forget to outfit yourself for maximum comfort:
Dress in layers and shed/don them accordingly to avoid sweating
Wear snow pants or boot gaiters
Wear warm snug fitting footwear including wool socks and lined winter boots
Water bottle to stay hydrated, and healthy snacks to keep up your energy
Extra mittens or gloves (I like to have a thin pair of gloves on to make adjustments to bindings)
Navigation tools such as a compass and trail tape
A plastic bag to haul out your own garbage or litter you come across
A few more tips and safety measures:
I always have my phone with me in order to enjoy geocaching or taking pictures of wildlife, but I can't rely on cell service on a few trails.
Always tell someone your travel plans
Bring a buddy
Stay on or beside marked paths
Know your limits and turn back before getting tired
Check the weather
Take a picture of trail maps as you go
When snowshoeing we also want to stay respectful of other winter enthusiasts.
When sharing the path, avoid stomping on the nice smooth trails made by skiers, and never snowshoe on snowmobile trails, where fast moving vehicles can pose a danger. Make your own path a few meters off the trail, and ensure you wave a greeting to passing nature lovers.
There's plenty of trails to go around for everyone so get out, and get stomping in that snow!