Teacups, furniture, collectibles, jewellery – at Susie M's Hidden Treasures, you'll find gems you didn't even know you were looking for. Owner Susie McIntosh opened her own store here in Kemptville in 2019 after 18 years co-owning Total Move Management. June 1 marks the fourth anniversary of her successful shift into retail.
The boutique shop for antiques is well known by locals and beyond, often hosting thrift enthusiast from afar. When you walk through the door, you will be greeted with extravagant displays of vintage dishes, fine china, collectables, and the friendliest smile followed by "how are you today?" Shelves and cabinets full of rarities line the wall's length, with the cash register placed in the far back corner of the store. As you walk the aisles, you may find yourself making a second round, or even a third round of the store, finding displays that you missed the first time.
Of course, Susie's success didn't come without struggles; we all know what happened in early 2020, just one year after opening. With on and off lockdowns, safety mandates, and vaccination passports, one can argue that 2023 is the true first year of full operations for Susie, although Digital Main Street, an initiative supported by the Government of Ontario, helped Susie create a website for online shopping and increase her online presence during the pandemic.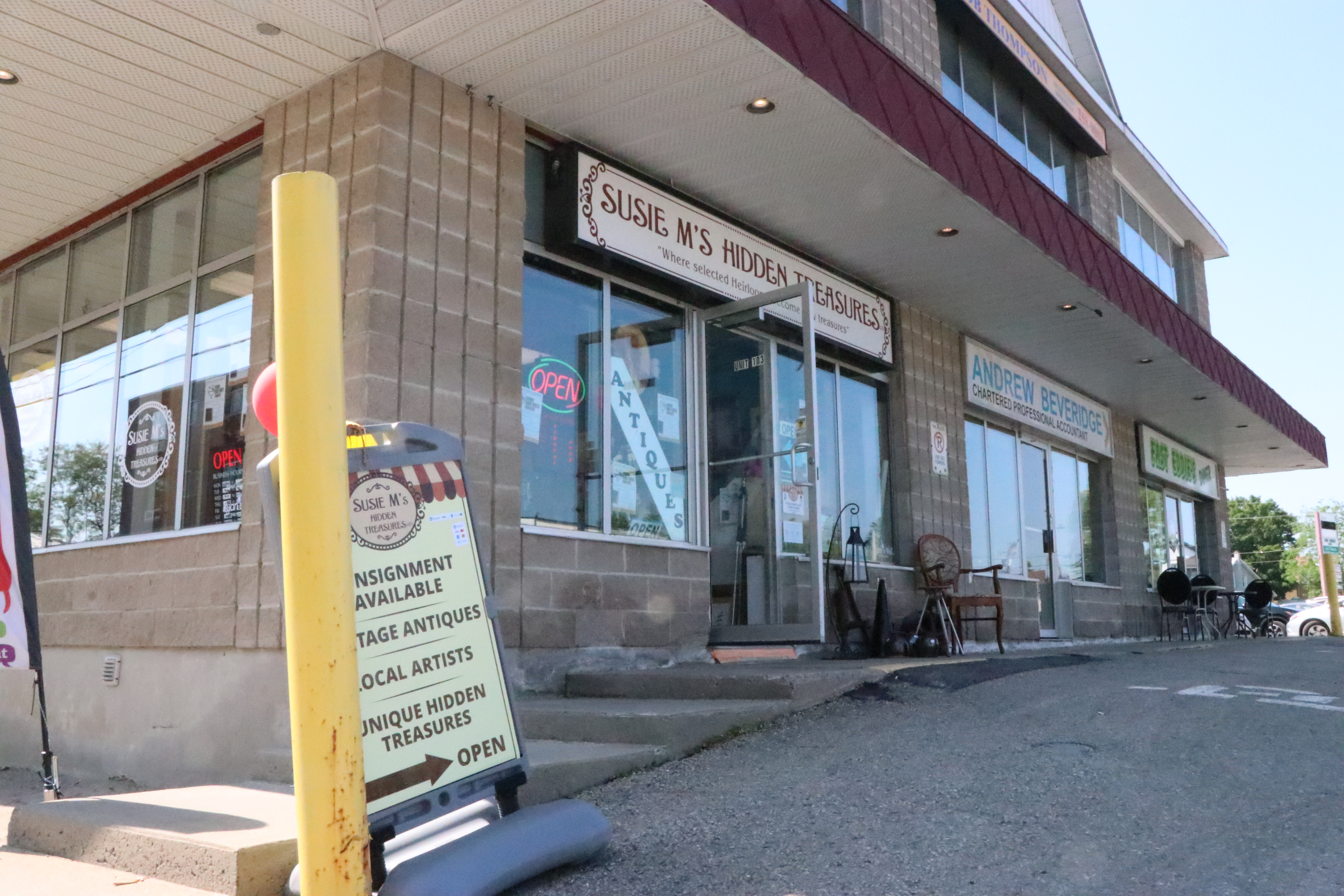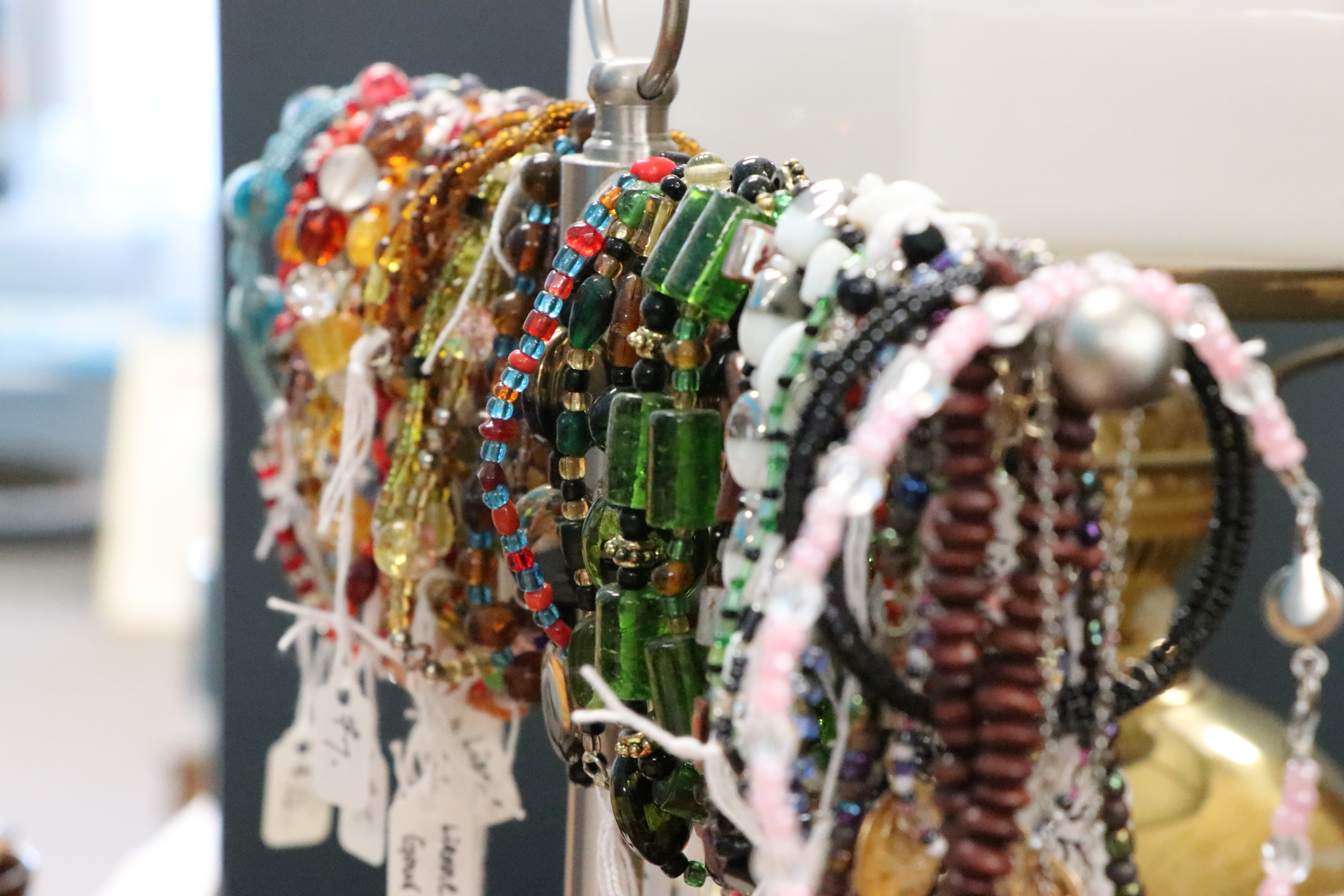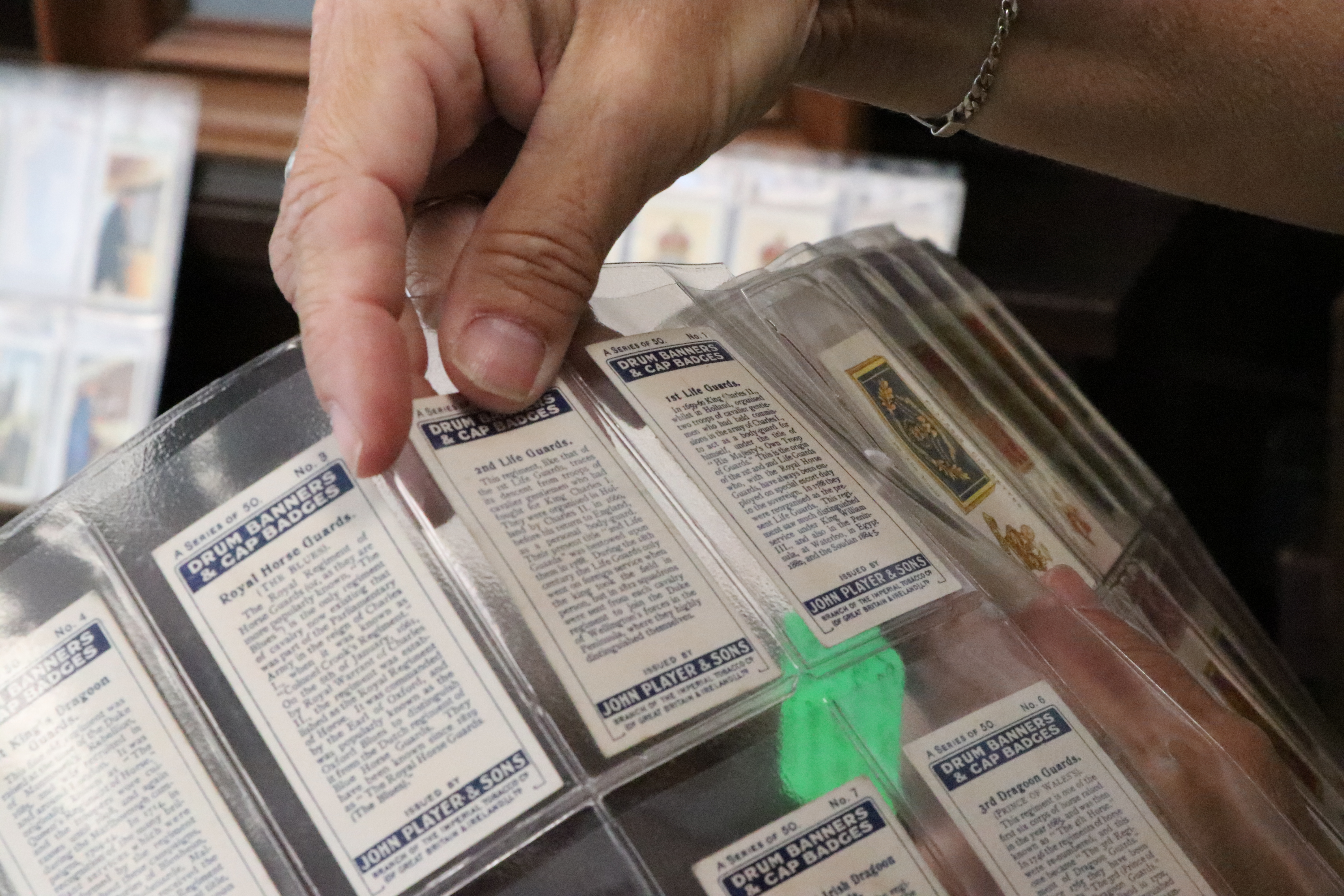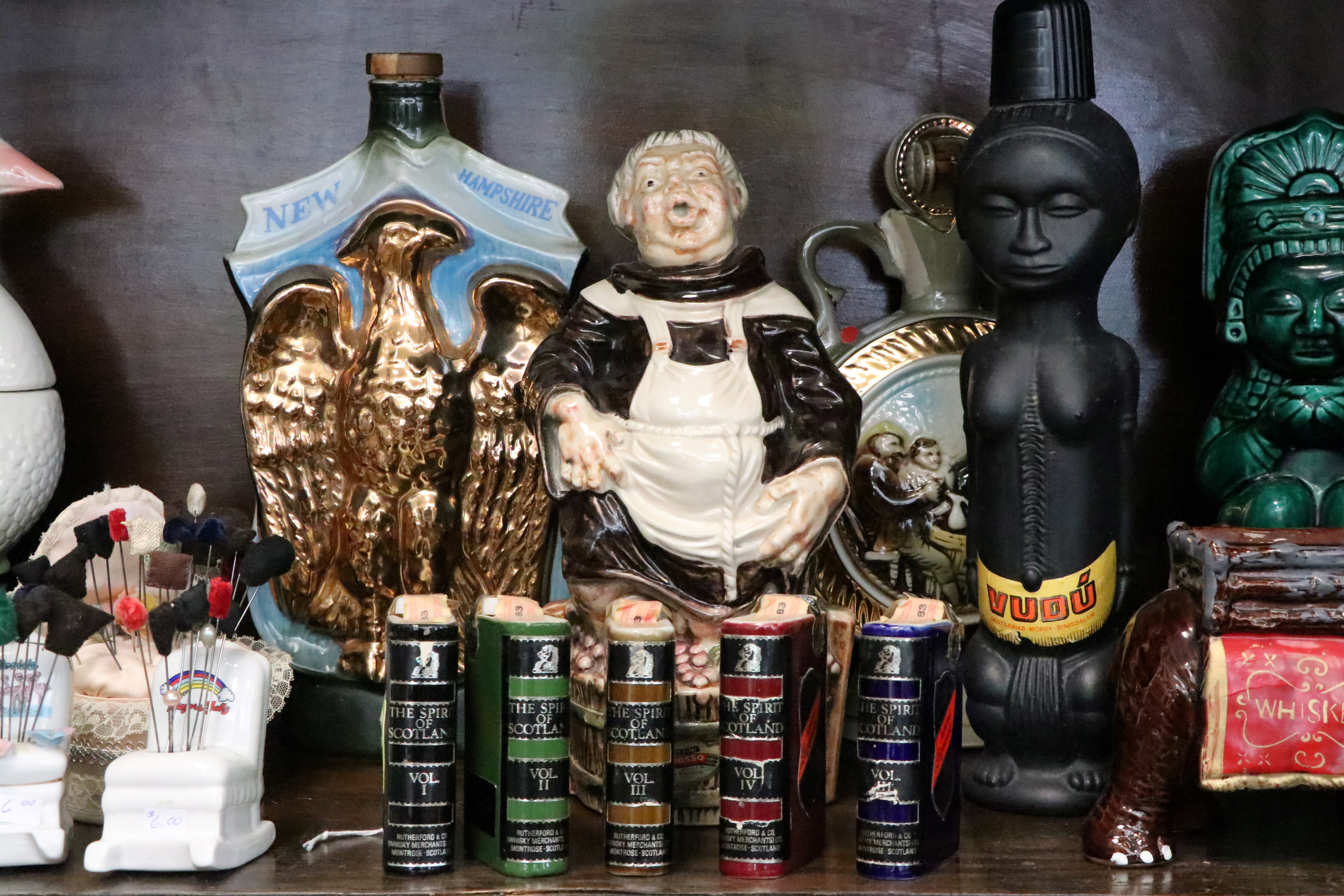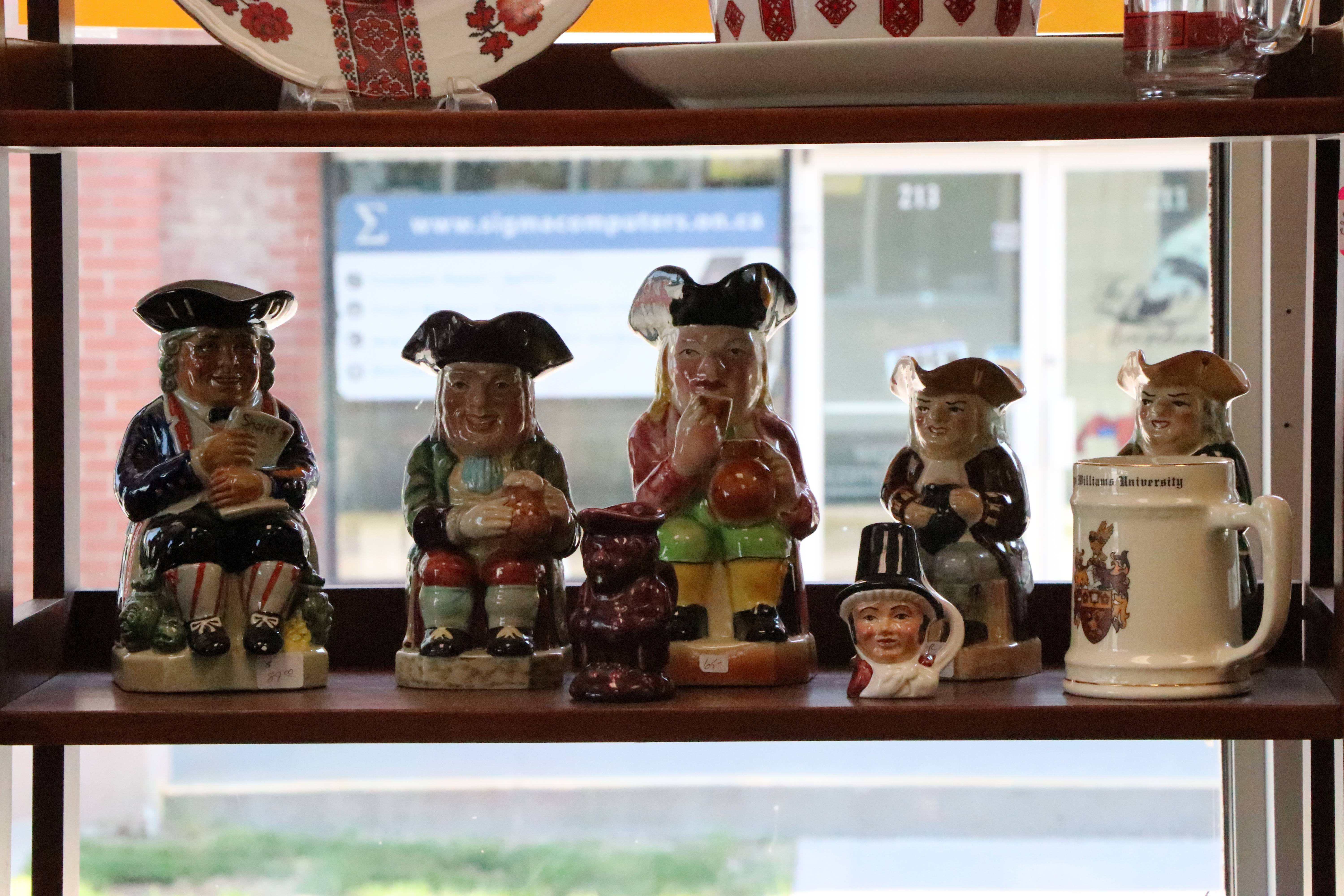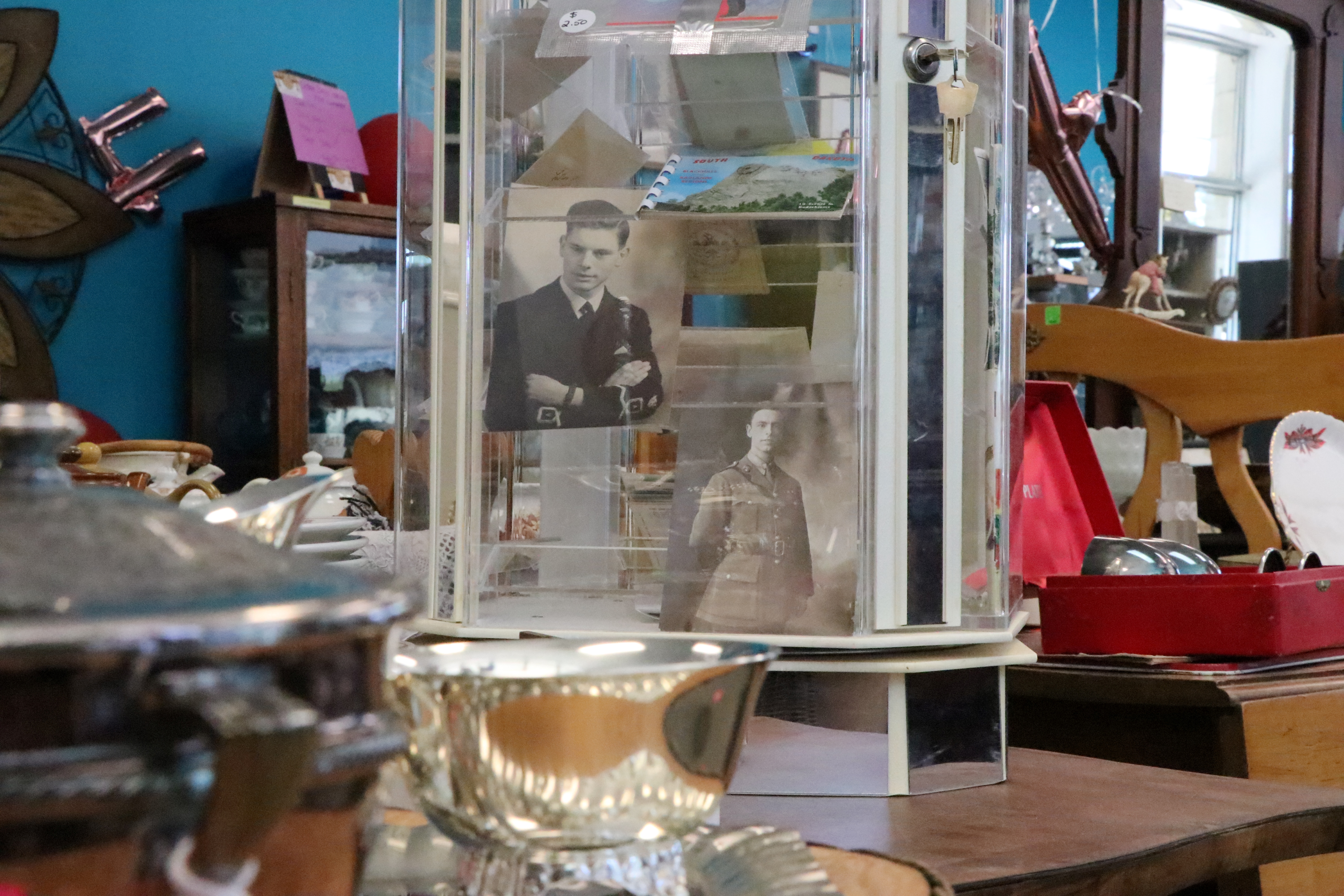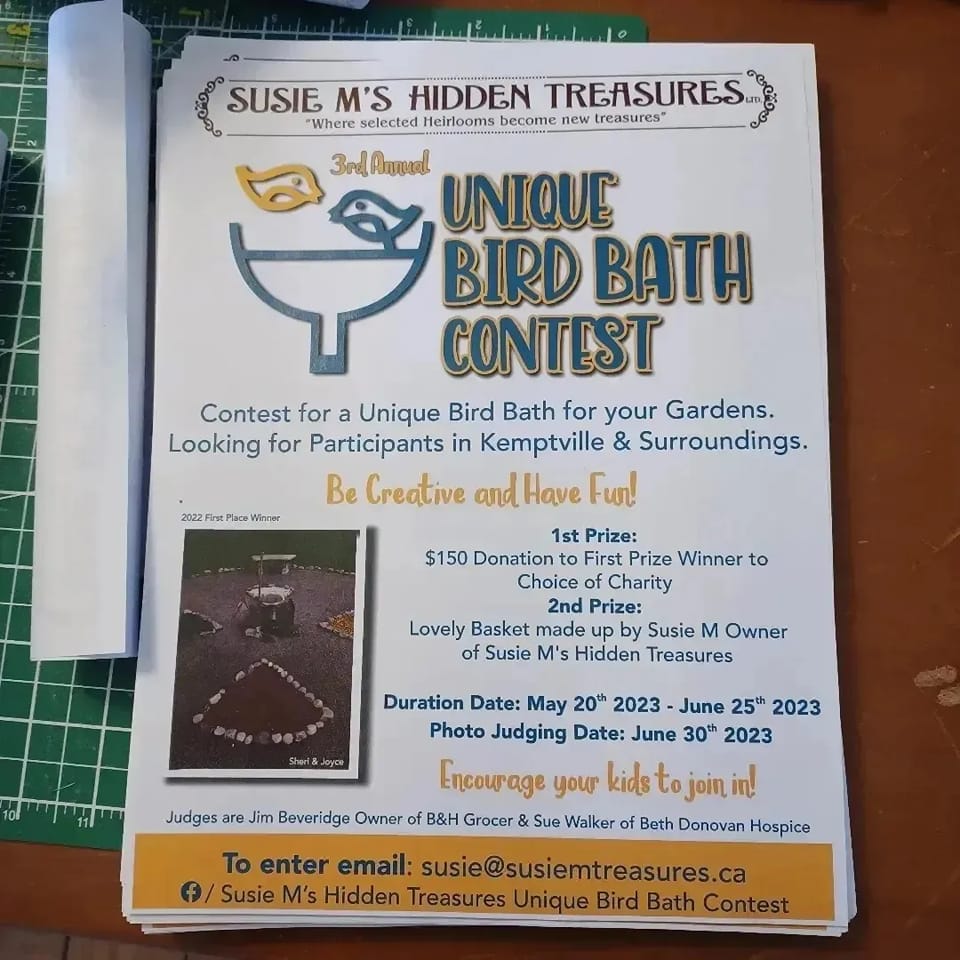 Contest Alert!
The third edition of the unique birdbath contest is on now until June 25, 2023. The photos will be judged by Jim Beveridge, the owner of B&H Grocer, and Sue Walker of the Beth Donovan Hospice. Create an interesting bird bath setup and send in a photo of it to This email address is being protected from spambots. You need JavaScript enabled to view it.. Photos will be judged June 30.
"I learned a lot from the help; my Instagram is doing really well and I get a lot of inquiries through my posts," reflected Susie. "I've had someone from Toronto come here for something I posted on Instagram."
With the added connectivity, the community grew closer, but also wider. During the pandemic, Susie started a virtual "unique bird bath" contest, where people from anywhere could participate. She had participants from Winchester, Ottawa, and beyond.
Susie adds that "It's a great way to get the family or kids involved too, and it's a great way to give back to the community. The first-place prize is a $150 donation to a charity of their choice."
Community has always been important to Susie. In her past life, during her moving company times, she often volunteered her services. When the three libraries in North Grenville were moving into a single building, she packed up all three libraries. The same was done for the fire hall and the youth centre. When Brewed Awakenings owner, Kemptville's beloved Kika Smith, passed away just last year, Susie organized an afternoon tea party fundraiser event for Beth Donovan Hospice, to help offer compassionate support for those facing end-of-life transitions.
In fact, when asked where she would recommend visitors as a 'must-see' business when exploring Kemptville, Susie enthusiastically recommends Brewed Awakenings, a local café that is sure to charm you over with their friendly staff, cozy home atmosphere, baked goods, sandwiches, and soups that will warm up your heart make you never want to leave.
"A lot of people love their food. [Kika's] two daughters are still going at it, and they're doing a great job," said Susie.
When you visit Susie M's Hidden Treasures, she hopes her store can leave a similar impression. There's treasure for everyone somewhere in the store, whether you entered looking for it or not. If you can't find what you were looking for, let Susie know. She would be delighted to give you a call when the item you were looking for comes in. It's always a good idea to check back often; her oft-revolving stock means there are always new treasures to be discovered.
Susie M's Hidden Treasures