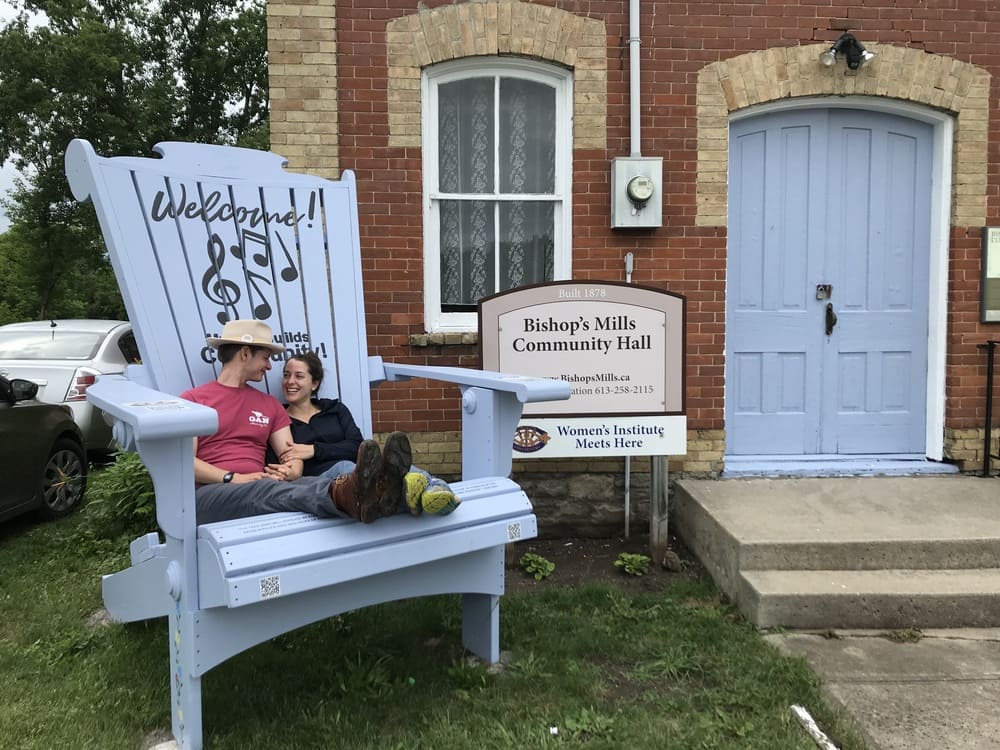 Welcome to Bishops Mills, Ontario – an historic hamlet in the municipality of North Grenville, located just 20 km south of Kemptville.
The Village had its origins around 1840 when two brothers, Chauncey and Ira Bishop, chose this location to build a sawmill and grist mill on the Middle Branch of the Rideau River. In the 19th century, the village boasted two general stores, post office, school, churches, blacksmiths, tinsmith and its own doctor.
Today, residents of this picturesque rural hamlet demonstrate pride in their heritage by actively participating in the community's two churches, community hall, Women's Institute and Community Association. Come and explore our heritage!
Bishops Mills Historic Walking Tour
1. Community Hall – 38 Main Street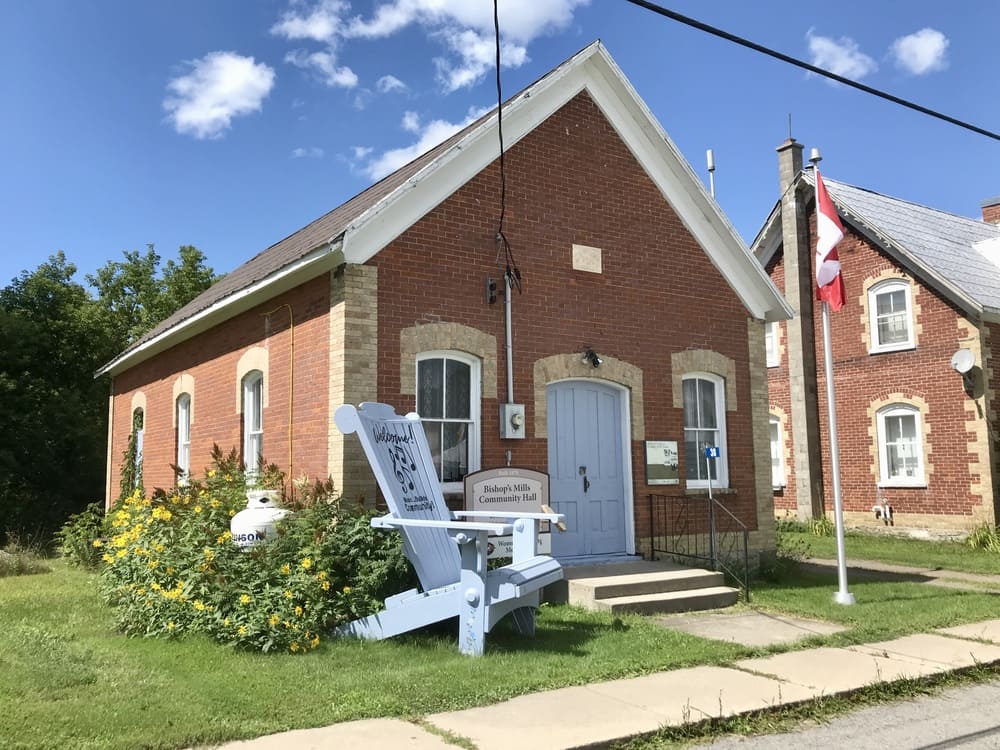 Constructed in 1878, the Bishop's Mills Community Hall was originally a meeting place for the Independent Order of Good Templars. The builder's name – J. Wilson – and date are listed on the stone above the door.
Apparently, the Templars had good reason to establish a foothold in Bishop's Mills, with at least one tavern operating in the Village. Larry Cotton, in his book Whiskey & Wickedness (2007), mentions the "tavern of Andrew Kirkland, who operated it in the late 1850's. William McLennan kept this house during the 1860's and into the early 1870's." Also, James McLees operated a public house in Bishop's Mills in the 1880's and 1890's, closing the premises about 1898.
The Temperance Movement went out of fashion at the turn of the 20th Century, and in 1926, the building was sold to three local trustees for one dollar with the provision that it be made available "for the use and purpose of the Community in General." Renovations focused on the installation of a new wood floor and the replacement of window coal oil lamps with ceiling gas lights (later converted to electricity).
The building is an outstanding architectural example of a late 19th Century temple-fronted institutional structure with segmented arch-headed windows and openings, double front doors, a cut rough coursed stone foundation, a metal shingle roof and red brick exterior with contrasting yellow bricks.
A social and civic hub, the Hall has demonstrated remarkable resilience having served as a temporary school after fire destroyed the local school building, a polling station, and a popular venue for Sunday School concerts, wedding showers, square dances and card parties. Enduringly, it is still used today as a meeting place for the community and the local Women's Institute. A plaque was erected on the exterior by the Heritage Advisory Committee in 2014.
Still maintained by volunteer trustees and caretakers, the Hall remains at the heart of the community, nurturing a sense of pride and identity that is as strong today as it was in 1878. The giant chair out front was donated in 2021 by the Best Adirondack Chair Company to welcome visitors to the area.
2. Former Stage Coach Stop – 37 Main Street
3. Former Doctor's House – 36 Main Street
4. St. Andrews United Church – 34 Main Street
5. Former General Store – 30 Main Street
6. Former Methodist Church – 1 St. Lawrence Street
7. Former One-Room Schoolhouse – 10 St. Lawrence Street
8. Site of Former Feed Store & Blacksmith Shop – 25 Main Street
9. Former McLellan House – 23 Main Street
10. Original Stone Schoolhouse– 8 Mill Street
11. Original Buker House – 9 Mill Street
12. Site of Former Cheese Factory – 17 Mill Street
13. Site of Former Saw and Grist Mills – 22 Mill Street
14. Original Bishop House - 24 Mill Street
15. Former Methodist Parsonage – 23 Mill Street
16. Former Presbyterian Manse – 405 County Road 18
17. Bishops Mills Cemetery - County Road 18, 2 km NE of the Village