Stephen Burritt with his wife Martha (Stevens) and brothers Daniel and Edmund came to this area in the early 1790's. He was granted land in the hamlet now known as Burritts Rapids and with the construction of the canal in 1826-1932. The land was "sub-divided" and subsequently the "island" became the heart of a thriving community. By th the mid-19 century, the hamlet boasted several mills, a tailor shop, hat shop, two shoe stores, a bank, post office, two hotels and even a resident doctor. Unfortunately, once river traffic was superceded by the railroad, which by-passed the community, commerce declined and the hamlet was left in peace. Old photos show Grenville Street has not changed much in 200 or so years- the shops have gone, but the structures have been carefully retained as private homes.
Burritts Rapids Historical Walking Tour
1. French Store - 23 Grenville Street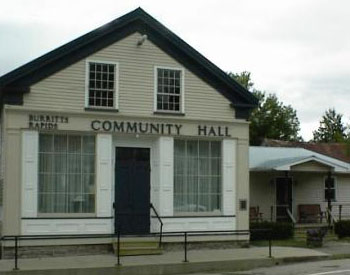 The Community Hall was built in 1840 by John Strahan French as a general store with living quarters above. Typical neo-classical with gable end facing the road. In 1902, the building was bought by the trustees of the Methodist Church for Church functions. In 1935 it was purchased by a group of residents and is still today owned and operated by the residents of the village. In order to maintain the building, it is rented out for various organizations and for private functions. Note the plaque on the building and the Ontario Historic Sign beside the Community Hall Building.
2. French Residence - 24 Grenville Street
3. Kidd Residence - 22 Grenville Street
4. Hurd Residence - 16 Grenville Street
5. Harris Residence and Forge - 17 Grenville Street
6. Healey Residence - 15 Grenville Street
7. Burritt Residence - 14 Centre Street
8. Muir Residence - 11 Centre Street
9. Log Home - 8 Centre Street
10. Orange Lodge - 3 Oxford Street
11. Bridge Master House & Swing Bridge - 1 Grenville St
12. McGowan House - 3 Grenville Street
13. Shoe Shop - 5 Grenville Street
14. Conn House - 7 Grenville Street
15. Methodist Church - 25 Centre Street
16. Guest House - 27 Centre Street