Kemptville began on Clothier Street East. It was along this street that the early village developed, where hotels and service industries such as blacksmiths, general stores and the post office were located. The street parallels the river, the focus and reason for the village from the beginning in the 1820's. This is the land that Lyman Clothier bought in order to build a saw mill in the 1820's, and it remained the main street of Kemptville until after the fire of 1872, which destroyed much of Prescott Street. When it was rebuilt, the focus of the village shifted across the river. But Clothier Street east continued to be an important thoroughfare, the site of many important businesses in the commercial life of the village.
Clothier Street East Historical Walking Tour
1. Odd Fellows Hall - 119 Clothier St. East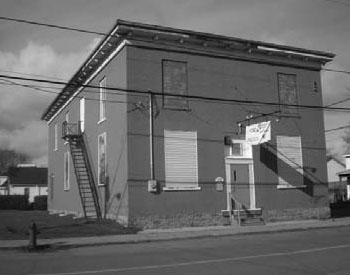 Built in 1859 by Joseph Bower, a leading merchant in the community in the latter half of the century, it was run by Bowers and his sons as a general store until 1870. In 1888, an Agricultural Fair was being held here, and it became the first building in Kemptville to be lit by electric lights, as lines were run especially for the occasion from George Keating's mill above the bridge at Prescott Street. It was bought by the Independent Order of Odd Fellows in 1892, two years after they had arrived in Kemptville. The store was remodeled with lodge rooms on the second floor, and an Opera House on the ground floor. This hall has been used by the community ever since for public and private events, annual Fireman's Balls each March 17th, and regular dances, plays and concerts. For a few years in the 1940's it was used as a movie theatre.
2. Grahame's Bakery - 115 Clothier Street East
3. Kemptville Suites - 103 Clothier Street East
4. Anderson's Old Stand - 38 Clothier Street East
5. Beckett's Hotel Clothier and Sanders Streets
6. The Kerr House - 31 Clothier Street East
7. United Farmers of Ontario - 31 Clothier Street East
8. O'Heaphy's Pub - 27 Clothier Street East
9. Rotary Park Clothier and Prescott Streets
10. White House Hotel - Clothier and Prescott Streets
11. Beddingfield's Store - 21-23 Clothier St. East
12. The Post Office - Clothier Street East
13. Bell Exchange - 13-17 Clothier Street East
14. Family World - 9 Clothier Street East
15. The Clothier Inn - 8 Clothier Street East
16. The Dell Block - 3 Clothier Street East