Clothier Street was the original main street of Kemptville. The first homes and businesses were along this street, and the first mill was on this side of the river above the bridge. The corner of Rideau Street marks the line between Lot 26 and Lot 27, Con. 3, Oxford-on-Rideau Township. To the east lay the lands bought by Lyman Clothier, and to the west were those granted to Elijah Bottum. As the village grew in the 1830's, a few homes and businesses were started on the west side of the line. But it was when much of what is now Clothier Street west was granted to the Anglican parish of St. James for its support that settlement started moving along the west side of the village. A few businesses continued to operate from homes, but Clothier West became primarily a residential area. Many of the village's leading citizens built homes here, though most later moved to the newer and more prestigious area of Prescott Street in the later nineteenth century.
Clothier Street West Historical Walking Tour
1. Dr. Ferguson House - 5 Clothier St W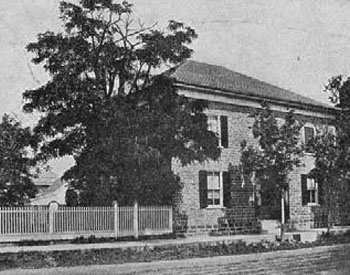 This house has a fascinating and colourful history. Lyman Clothier junior built a house on the site in the 1820's, but the present house was built some time after 1840 and, according to gossip, was paid for from funds of a republican group, the local Hunters Lodge, dispersed after the Battle of the Windmill in 1838. Nathaniel Fenton bought the property in 1843, and operated a hotel in the house until his death in 1849, and his wife and her new husband used it as a store and a lady's finishing school for many years after that. One of the students, Elizabeth Bell, later married Dr. C. F. Ferguson and moved into the house in 1897. It remained in the Ferguson family until 1953. Dr. Ferguson served as Member of Parliament from 1874 until 1896. It was the location for many social and political events, including visits from Sir John A. Macdonald. One of Dr. Ferguson's sons was Ontario Premier, G. Howard Ferguson, who grew up here. When the Fergusons moved in, there had been three families sharing the building, but the new owners renovated it completely, and laid out gardens and an orchard in the rear of the property. Over time, parts of the property were sold off for homes and the Salvation Army Hall. The house itself was later transformed into the Stonehaven Rest Home.
2. Lyman Clothier's House - 8 Clothier St W
3. Leslie Hall - Clothier St W
4. St. James Anglican Church - 35 Clothier St. W
6. Greystones - 22 Clothier St W
7. Dr. Sparham's House - 30 Clothier St W
8. Baptist Church - 116 Clothier St W
9. John Sanders House - 201 Clothier St W
10. The Sparham Home - 126 Clothier St W
11. Landon House - 204 Clothier St W
12. Grammar School - 205 Clothier St W
13. Squire Bottum's Estate - 319 Clothier St W