Until the early 1840's, settlement on the south side of Kemptville had stopped at Asa Street. The river remained the main focus of the village, both for trade and com- munication. The road south to Prescott entered into thick bush around Asa Street, so thick even those on horseback would sometimes have to dismount and walk. After the fire of 1872 had destroyed Prescott Street from Water to Asa Streets, most of the rebuilt properties there were dedicated to business and commercial operations. Business owners and other leading members of Kemptville society, began to build residences closer to the commercial centre, and many of them moved from the Clothier West area on to large lots and into newer homes. The churches and schools followed. This tour takes in some of those residences, and the commercial concerns that grew up around the Prescott Street district.
Kemptville South Historical Walking Tour
1. The Buchanan Block - Prescott & Asa Sts.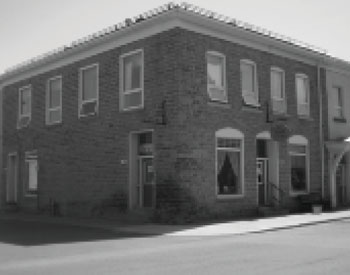 This house has been a residence and business centre ever since Harold Hutchins built here in the 1860's. Angus Buchanan lived here and ran his drug store between 1880 and 1901, when he died. Buchanan was Reeve of Kemptville for a total of seven years, and ran for the Provincial Assembly, unsuccessfully, twice and for the Canadian Parliament once. His wife carried on the business until 1919, when Dr. R. A. Patterson's dentist office took over the second floor, remaining there until 1972. The ground floor continued in use as a drug store under different owners. Patterson added the addition to the south of the original building, and it was known as the Patterson Block.
2. George Tuck Block 202 Prescott St
3. The Advance Building - 206 Prescott Street
4. Carnegie Library - 207 Prescott Street
5. DePencier and Craig Homes - 216-220 Prescott St.
6. North Grenville High School
7. United Church and Manse - 400 Prescott St.
8. Blackburn Residence - Home Hardware Store
9. G. Howard Ferguson Home - 506 Prescott St
10. Presbyterian Church - 319 Prescott St.
11. Thomas Maley House - 305 Thomas Street
12. School House - 15 Elizabeth Street
13. Carson's Blacksmith Shop - Asa & Thomas Sts.
14. Banks Bros Livery Stable - Asa & Thomas