At its height, Oxford Mills was the main centre of Oxford-on-Rideau Township and boasted a population of over 500. There were hotels, stores, grist and saw mills, a cheese factory, and an active social and educational life. After amalgamation in 1998, Oxford Mills became one hamlet in the new Municipality of North Grenville. But it remains one of most scenic places in the Municipality, with a living history and memories of a great past.
Oxford Mills Historical Walking Tour
1. Anglican Church - 103 Maplewood Avenue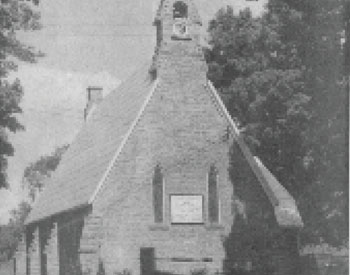 The cornerstone was laid for St. John's the Evangelist Anglican Church in 1869. Before that, services were held in Magee's Hall on Water Street. It was the first church built in the Anglican Parish of Oxford-on-Rideau. The stone was quarried at the Harris quarry, and the church was built in the English Style. It was deconsecrated in January, 2007 and was subsequently renovated as a private residence.
2. Township Hall - 100 Maplewood Avenue
3. S. S. No. 8, Oxford - 98 Maplewood Avenue
4. Cheese Factory - East Bank, North Side
5. Clothier Hotel 9 Water Street
6. Blacksmith Shop Water Street
7. Magee Hall, 13 Water Street
8. Anderson's Shoe Store - 23 Water Street
9. Oxford Mills Bakery - 27 Water Street
10. Presbyterian Church - 61 Water Street
11. Methodist Church - 42 Water Street
12. Original Methodist Rectory - 22 Water Street
13. Magee Tavern and Kidd's Store - 14-16 Water St
14. Waugh General Store - 9 Bridge Street
15. Waugh Residence - 12 Bridge Street
16. Grist Mill East Bank, South of the bridge