Father's Day is a day to appreciate one's father or relevant father figure; it's a day to celebrate fatherhood, paternal bonds, and the influence of fathers in society. There are many ways to say "thank you" and if you're looking for a gift or an activity to do with that special someone, read on. We've gathered a few awesome ways you can spend this Sunday together for Father's Day, so come on down and take a day trip to Kemptville.
Play The Course
Welcome to Kemptville, a hidden gem for golf enthusiasts! Whether you're a seasoned pro or a beginner, our town offers a variety of courses and facilities that will challenge and delight you.
One of the most popular destinations for golfers is the Equinelle Golf Course. This award-winning course boasts stunning views and challenging holes, with a reputation for being one of the best in the region.
If you're looking for a more laid-back experience with your dad, the Rideau Glen Golf Course is a great option. With its picturesque location and relaxed atmosphere, this course is perfect for a fun round with friends or family. And if you're looking to improve your swing, the Indoor Celtic Golf Centre offers state-of-the-art simulators and instruction that will help your dad take their game to the next level.
Restaurant Recommendation
After a round or two of golfing at Equinelle Golf Course, why not treat you and your father figure to a delicious meal? The Fireside Grill at Equinelle Golf Course is a local favourite for golf enthusiasts, offering culinary delights including Asian Duck Rolls, Shrimp & Scallop Fresco, and AAA grade striploins. Check out of its other mouth-watering menu options on the website.
Try a Different Kind of Golfing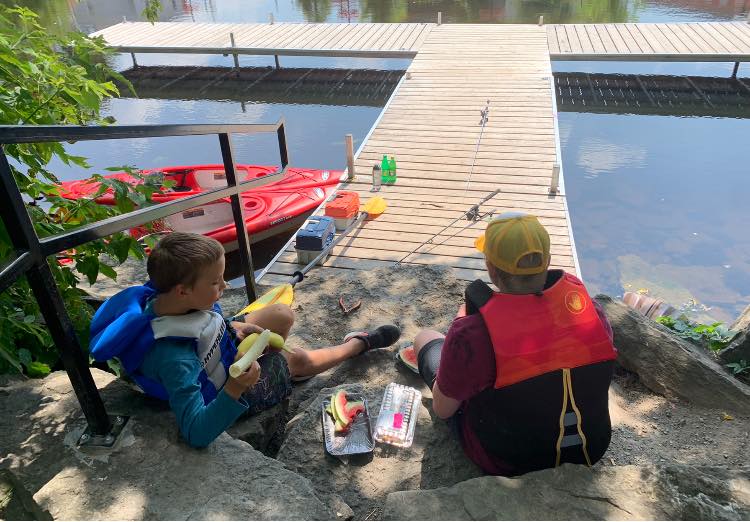 A Rare Chance to Catch and Release
Father's Day Weekend is an Ontario Family Fishing Event! Grab your family, your fishing gear and maybe even your choice of kayak, canoe, or fishing boat and make your way down to the tranquil waters of Kemptville Creek! Ontario Family Fishing Events allow residents to fish without a license, presenting the perfect opportunity to try out fishing, teach others, and appreciate nature with loved ones. Kemptville Creek is a quiet, beautiful waterway where one can paddle and fish undisturbed by larger boats while observing the wildlife around them. For more information and regulations, please visit https://www.ontariofamilyfishing.com/
Kemptville has many convenient docks to fish and launch your boat from throughout the municipality. Visit this website to see the whole list of parks and docks, and check out our blog post on paddling beautiful Kemptville for more ideas!
No Fishing Gear? No Problem!
No Boat? We Got You Covered
Rent your choice of kayak, canoe, or Stand-Up Paddleboard (SUP) from Drifters Outdoors. With an on-site boat launch and all safety equipment provided, you can start your waterway adventure with confidence and ease. Bring your family to paddle down the beautiful creek and experience a unique group activity. Check their Facebook page for more information, including lessons!
A Swaying Promise
For music lovers, buy them tickets to Kemptville Live Music Festival! This July, sway to soulful melodies of award-winning blues artist Colin James or rock the night away with Blue Rodeo. This four-day music extravaganza brings out the big stage, brilliant light show, and towering speakers, Tickets to one of the largest music festivals in the Ottawa Valley are a great gift if you and your father figure just can't make it out this weekend. For the full four-day lineup and tickets, visit www.kemptvillelivemusicfestival.com
Please The Inner Artisan Lover
Breakfast Recommendation
Start Father's Day off with a family breakfast! Hard Stones Grill bears an extensive breakfast menu, offering all the classic favourites: eggs and bacon, pancakes, crepes, lofty benedicts, omelettes, sandwiches, fruits, and even a breakfast poutine. This locally owned and operated grill runs breakfast 8 a.m. to 2 p.m. on weekends.
Dress Them Up Fancy
Find expertly tailored suits, sports coats, and dress pants from global brand names such as Jack Victor, S. Cohen, and many others at Smolkin's Men's Wear Ltd. With hand-selected silk ties that match perfectly with a wide selection of crisp dress shirts, your father will look sleek. Smolkin's have been dressing men well in the area for over 100 years. Built on four generations of quality and service, they know how to treat folks like royal when they're in the store. Visit Smolkin's in the Kemptville Mall and give your dad that royal treatment.
Bring Your Bikes Out for a Spin
North Grenville has no shortage of trails for you to explore as a family. With over 50km of trails all across the municipality, there is endless adventure to have. Take your bikes to Ferguson Forest Centre and pedal through the wilderness such as on the Maple Trail, or ride down the Rail Trail where the Bytown and Prescott Railway once operated near Kemptville Campus.