The ParticipACTION Community Challenge is a national physical activity that encourages everyone to get active throughout the month of June.
In 2021, North Grenville was crowned Canada's Most Active Community, which came with a $100,000 prize. The money was used to upgrade playground equipment and recreational amenities in North Grenville's rural hamlets.
In 2022 AND 2023, North Grenville led a campaign to defend our title and was crowned Ontario's Most Active Community, earning $7,500 for each year.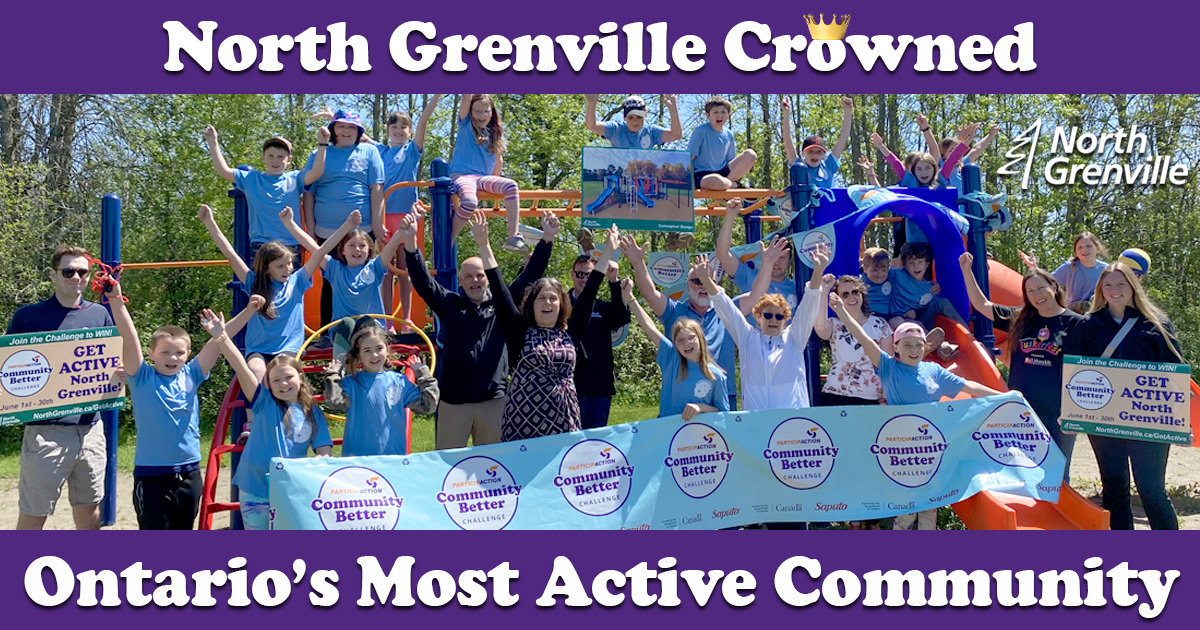 ParticipACTION Community Challenge - Frequently Asked Questions:
The challenge is open to all individuals, organizations and businesses. All minutes tracked on the app and on the website from June 1 – 30 using our main postal code (K0G 1J0) count toward North Grenville's total score.
Instructors/coaches/teachers can register and track minutes for their group on the website with ParticipACTION, gym classes, outdoor clubs, recreational activities, and outside play minutes are easy to count.
If you know of an organization that isn't participating and needs help signing up for a group account, contact This email address is being protected from spambots. You need JavaScript enabled to view it..
If you are looking for additional ways to get active during the challenge, check out our Calendar of Events that features local activities and challenges to keep you moving https://www.northgrenville.ca/community-and-culture/resources/community-events
How to Participate and Track Your Active Minutes
What if My App Is Connecting me to a Different Community?
What Counts Toward Active Minutes?
How Do You Track Your Family's Active Minutes?
How Do You Track Minutes as an Organization/Team?
Media Releases
July 2023

May 2023

July 2022

May 2022