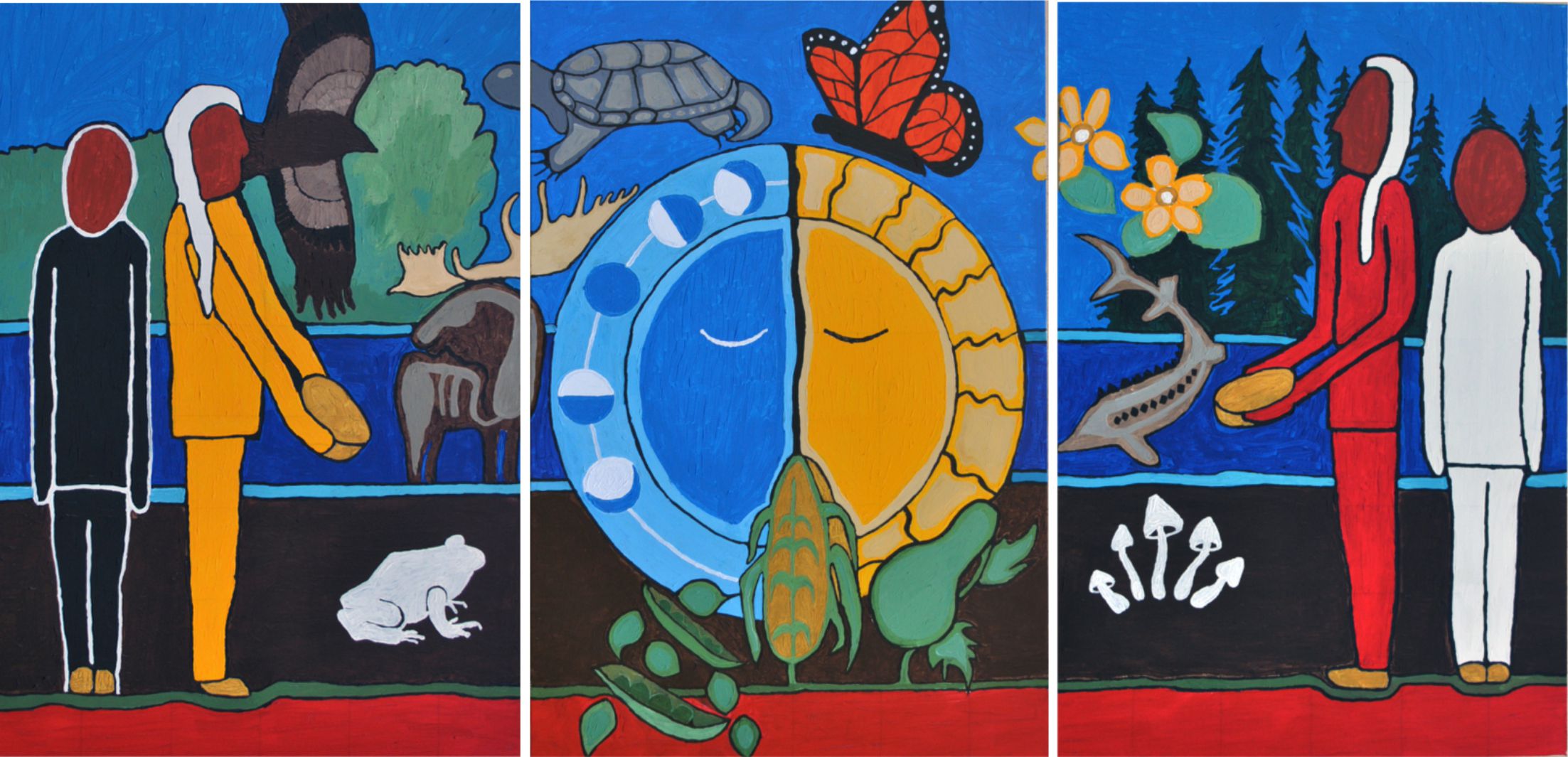 "Gifts from Mother Earth," presented to the Municipality of North Grenville by local artist Finian Paibomesai in 2022.
The original mural is on display in the front lobby of the North Grenville Municipal Centre.
More information about "Gifts from Mother Earth"
Gifts from Mother Earth
This artwork shows what Mother Earth has to offer to all living things to be able to survive and continue the life's cycle. Continued abuse of Mother Earth will make a desolate waste land. Mother Earth must heal and humankind must be grateful for its gifts.
The background colours represent the four elements:
Light Blue (wind and atmosphere) Dark Blue (water) Brown (soil) Red (fire)
The four human figures are the cardinal points and sacred circle
White: North, Air, White skinned People, Stars, Midnight, Death, Winter, Intellect – Mind, Animal, Sweetgrass.
Yellow: East, Fire, Yellow skinned People, Sun, Dawn, Growth, Spring, Emotional – Heart, Mineral, Tobacco.
Red: South, Water, Red skinned People, Moon, Noon, Birth, Summer, Spiritual – Soul, Plant, Cedar.
Black: West, Earth, Black skinned People, Dusk, Maturity, Autumn, Physical – Body, Human, Sage.
Each of the other images represent: Sturgeon (water), Flowers (ground cover), Butterfly (insects), Turtle (Reptiles), Eagle (Birds), Moose (Animals), Bull frog (Amphibians), Mushroom (under ground), Coniferous and Deciduous trees.
About the Author: Finian Aloysuis Paibomesai
Finian is a member of the WhiteFish River First Nation (Manitoulin Island). He came to the Ottawa area in the early 1970s to study Fine Arts at Algonquin College, University of Ottawa and Ottawa School of Art. At Algonquin College in the Visual Arts Program, he was taught by Fred Maheux, Pat Durr, Sima Vinburg, Lucille Yang, Dale Dunning, Richard Nigro, Rose Marie Swingle and other teachers. After graduating from Algonquin, he attended the University of Ottawa in the Bachelor of Arts (Fine Arts) and was instructed by Richard Gorman, Jim Boyd, Michael Schreyer, Phillip Frye and Richard Simmons.
In his formative years, Finian experimented with a lot of art styles from realism to abstract using oils, acrylic, ink and watercolour.
In the early 1980s, Finian and his wife Lynn moved from Ottawa to South Gower, a rural setting to develop and nurture his distinctive art style. Live many artists, to help him with his artistic journey, Finian had to rely on other sources of income eventually opening his business, fp Creative Solution Graphic Design, Signs and Decals.
Artist's Statement:
"Artistic Inspiration happens in different forms, so I do mine with lines…"
My artwork is developed through a mental visual image which is then sketched to a flat surface such as paper, canvas or Masonite board. The process is started with a line that traces out the outline of a perceived image. The image is then filled using lines (eg. Brush strokes loaded with paint). Even if there is a form of controlled application of the medium, each piece changes and evolves with selection of lines and colour as it is being produced. The finished composition is accompanied with vivid colours, abstract marks, spots, swirls and strokes. This is where the view is drawn into a contemplative space of real and spiritual world.
Steps in the use of lines (1) Visualizing the image. (2) Initial layout on the surface. (3) Application of the media. (4) Signing of the art piece.
First Nations Artist Evolution:
Stories for the First Nations Peoples have always been a major tool of cultural transmission, holding the story, values, beliefs and spirituality of the people. Through their paintings, First Nation Artists transcends the verbal storytelling history of their People that enters into the realm of visual arts. In this, First Nation Artists hope their work will resonate and awaken an awareness that is at once exciting and empowering, a way for all people to understand an Aboriginal world view. Within this context, story telling through colour and imagery, First Nation Artist's work will contribute to cultural revitalization, an awakening that continues to gather strength among the people to express and share the experience of being in and with the world, not masters of it.
On Tuesday, February 1, 2022, Council adopted its first ever Indigenous Land Acknowledgement as a step towards reconciliation in support of the Truth and Reconciliation Commission (TRC) Calls to Action released in 2015.
North Grenville's Land Acknowledgement:
The Municipality of North Grenville acknowledges that the Municipality operates on the un-ceded, and unsurrendered territory of the Anishnabek. We honour the historic relationship of the Haudenosaunee and Huron-Wendat peoples to this land.
We recognize all First Nations, Métis, and Inuit who now call North Grenville their home. We respect and support the need for cultivating a strong relationship with all Indigenous peoples and we look forward to continuing this conversation and fostering the path towards reconciliation.
The Municipality of North Grenville is committed to a meaningful reconciliation process, which will include engagement of the Indigenous community to better understand the actions that need to be taken. The Municipality, in partnership with the Indigenous advisory firm First Peoples Group and community partners, is currently creating a reconciliation framework. The process includes assessing current policies, procedures, and strategic documents through a reconciliation lens.
The draft framework will be brought to the newly established Indigenous Advisory Circle who will decide on next steps.
We can all take steps to raise understanding about residential schools and their ongoing effect on Indigenous Peoples.
The Truth and Reconciliation Commission (TRC) published its final report in 2015 to create a historical account of the residential schools, help people to heal, and encourage reconciliation between Indigenous and non-Indigenous Canadians.
The Municipality of North Grenville is committed to carefully reviewing and implementing recommendations outlined in the Truth and Reconciliation Commission's (TRC's) Calls to Action. Several recommendations from the 2015 Commission were focused on the role that municipal governments can play.
This includes:
Training on Indigenous issues for municipal staff and Council
Raising of the Every Child Matters Flag on September 30th
Recognition of Indigenous Veterans Day on Novemeber 8th, to recognize and acknowledge the many contributions and sacrifices of First Nations, Inuit and Métis to Canada's war efforts and peacekeeping missions.
Development of a land acknowledgment, in consultation with local Indigenous leaders and expected for early 2022
Public engagement sessions with indigenous and non-indigenous community members
National Day for Truth and Reconciliation
National Indigenous History Month
Missing and Murdered Indigenous Women and Girls