Are you and your family prepared in case of emergency?
North Grenville, like every municipality, regardless of size and location, can be seriously disrupted by an emergency. This could take the form of a severe storm, flood, fire, chemical spill or similar disaster.
Residents are responsible to be prepared for unforeseen emergencies. While nobody can predict an emergency, it is important to plan for a variety of possibilities. Your personal plan can make a significant difference to you and your family's well-being.
Please refer to the resources below to help you get prepared.
Ontario Hazards
Emergency Preparedness for the residents of North Grenville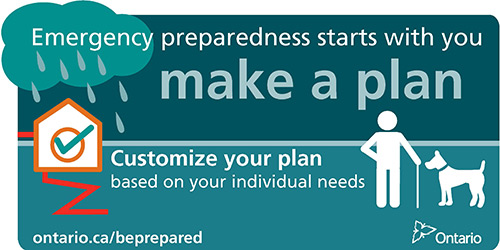 In an emergency, your family may not be together, or you may be asked to evacuate your home. Thinking about what you would do in different situations and preparing a plan with every member of your family is the first step to being prepared. See what your plan should cover here.