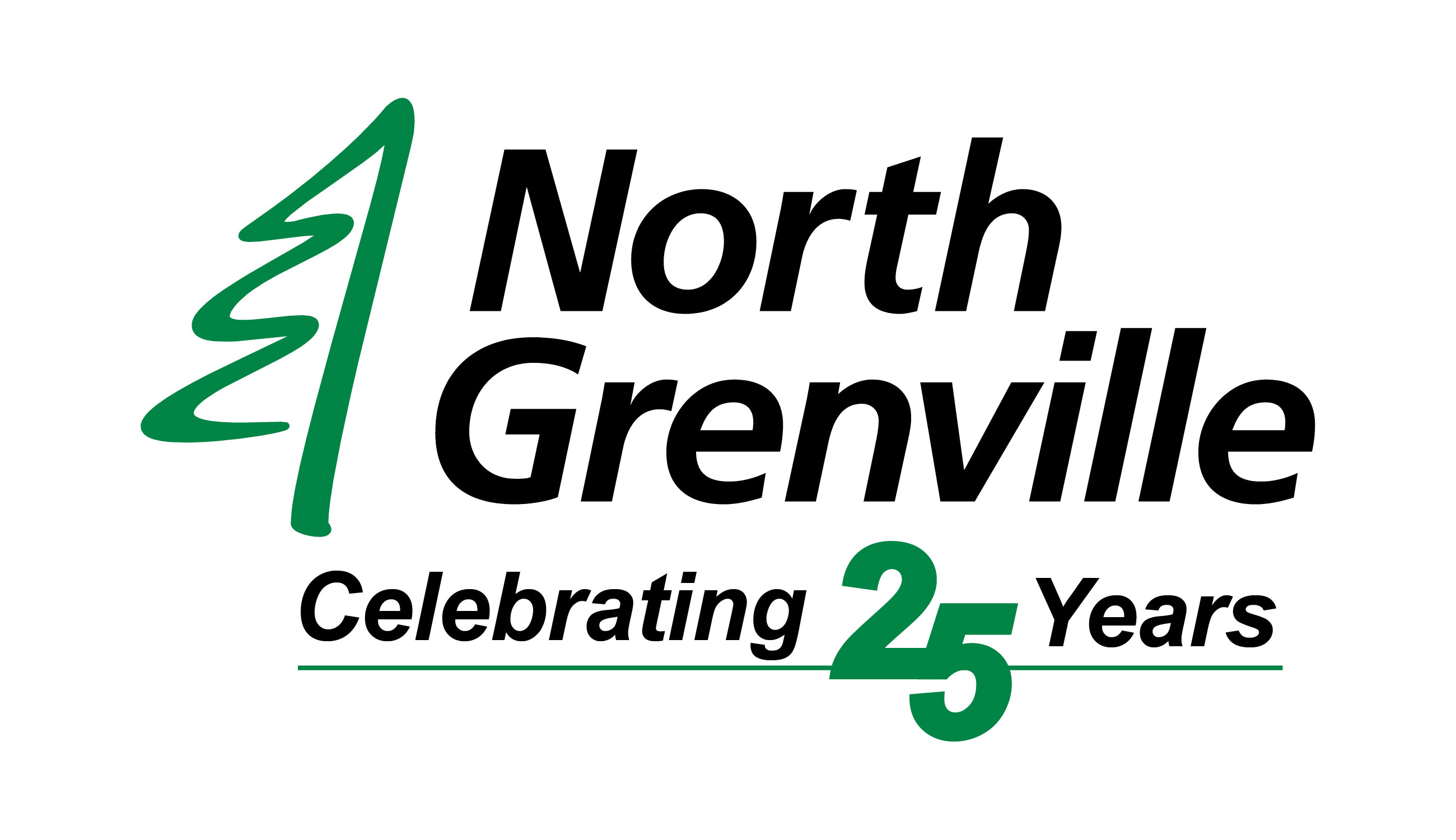 Celebrating 25 years as a Municipality!
This year marks the 25th anniversary of North Grenville as an amalgamated Municipality.
Born out of the infamous ice storm of 1998 when the historic Oxford-on-Rideau Township, Town of Kemptville and Township of South Gower were merged by the Province of Ontario to create the Municipality of North Grenville.
Celebrating North Grenville's 25th Anniversary Event
6:30pm – 8:30pm
North Grenville Municipal Centre,
285 CR 44, Kemptville, ON
Event Details
A culminating event to celebrate 25 years together is being planned in Kemptville on Tuesday, September 26, 2023, at the North Grenville Municipal Centre. During the event, former Mayors, elected officials, and community leaders will be recognised.
The 25th Anniversary event will bridge the past, present, and future of our beloved municipality, marking the significant moment when North Grenville was officially formed through the amalgamation of the three townships.
The evening promises a stroll down memory lane, accompanied by special guests, speakers, and music. A highlight of the event will be the ceremonial presentation of a Mayoral Chain of Office to past and present Mayors of North Grenville. This emblem of continuity will be worn in formal settings by present and future mayors as a testament to our shared journey.
A reception with light refreshments will follow the ceremony, offering a chance to reconnect and enjoy local cuisine.
About North Grenville
North Grenville is a caring, vibrant, and cohesive community, with a commitment to sustainable growth and a high quality of urban and rural life for all.
Inaugural Council of the
Township of North Grenville (1998):
Councillors
David Delaney
Patrick Esmonde-White
Owen Fitz'Gerald
Bruce Harrison
Born out of the ice storm of 1998, the Municipality of North Grenville has seen a number of key milestones and initiatives over the last 25 years including (but not limited to):
A new and expanded regional hospital;
A new centrally located library;
Municipal-wide curbside waste, recycling and organics collection;
New and expanded Fire Hall and ladder truck ad new OPP Station;
A central Municipal Centre, that hosts 2 ice pads, a 350-seat community theatre, and rental space for community events;
Lease of Municipally-owned former Provincial Ferguson Forest nursery lands to the new not-for-profit community-oriented Ferguson Forest Centre Corporation;
Expanded commercial development, particularly along CR 43;
Expanded outdoor recreational amenities including the soccer fields at South Gower Park, and more recently the revitalization of Riverside Park;
The transformation of the former Kemptville College to the Municipally-owned Kemptville Campus;
Expanded education and attraction of four school boards (English public, English Catholic, French public and French Catholic), and new schools for a growing population;
Host of the 2022 International Plowing Match;
Being crowned Canada's and Ontario's Most Active Community as part of the ParticipACTION Community Challenge (2021, 2022 and 2023). Prize money was used to expand outdoor recreational amenities in the hamlets and Kemptville.
North Grenville is a perfect destination for a day trip or weekend getaway. Visit often exciting large events, such as Kemptville LIVE Music Festival, Kemptville Buskerfest, and Poutine Fest with over 50 different kinds of Poutine to choose from, plus interesting shops, family attractions, and fantastic restaurants and patios.
The unique geography within the Municipality includes an abundance of forests, farms, and rivers - including the UNESCO designated World Heritage Rideau Canal (and our own tributary, the South Branch River, also known as Kemptville Creek) where residents and visitors alike boat, fish, and swim - or skate on in the winter!
Our charming rural hamlets offer small town feel – each with their own unique rural culture.
Today, farming, tourism, and local businesses form the backbone of the local economy.
Balancing a high rate of growth while maintaining the rural character of our community and protecting natural assets is, and will remain, a significant priority, as affirmed by the North Grenville 10-year Community Strategic Plan.