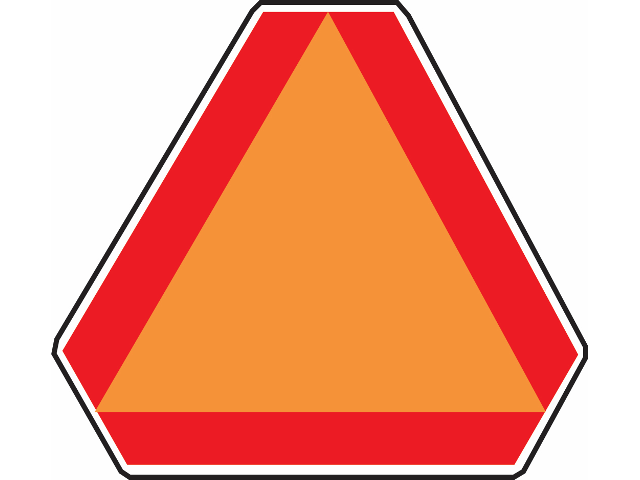 Watch for this sign, and
SHARE the ROAD
It's the time of year when farm equipment is using the roads more frequently in North Grenville. Passing farm vehicles can be very dangerous, and local farmers are reminding drivers to have patience around farm vehicles.
"We would like to remind drivers to slow down and be patient when approaching a farm vehicle, and only pass when safe to do so," said Laura Scott, Chair of the Agriculture and Rural Affairs Committee and local Farmer.
Farm equipment is often prone to rolling or tipping should it have to correct or veer suddenly. Farm equipment is often travelling with very heavy and very wide loads, and it can make seeing behind or around it difficult.
"We take pride and care in producing the best tasting food for your family. All we ask is that you exercise caution around farm equipment so we can do our jobs safely. And please be patient," added Ms. Scott.
Tips for Driving near and around Farm Vehicles:
Slow down and share the road.
Watch for a red and orange triangle sign. This means the vehicle cannot drive faster than 40km/hr.
Pass safely. Make sure you have ample space to pass and make sure the driver can see you before you pass.
Do not speed past farm machinery. Even when you may pass safely and legally, a fast-moving vehicle may cause the machinery to sway and become unstable.
Watch for hand signals. Just because a tractor veers right does not mean the operator is pulling over for you to pass. The sheer size of farm equipment often dictates the necessity of wide turns–hence the veer right. If a tractor operator is signaling you to wait, trust them. He/She has a much higher vantage point than you.
Do not expect the vehicle to pull over on the shoulder. Driving with one set of wheels on the pavement and one set on loose-surfaced shoulders substantially increases the risk of overturn.