Glittery Crafternoon hosted by NG Pride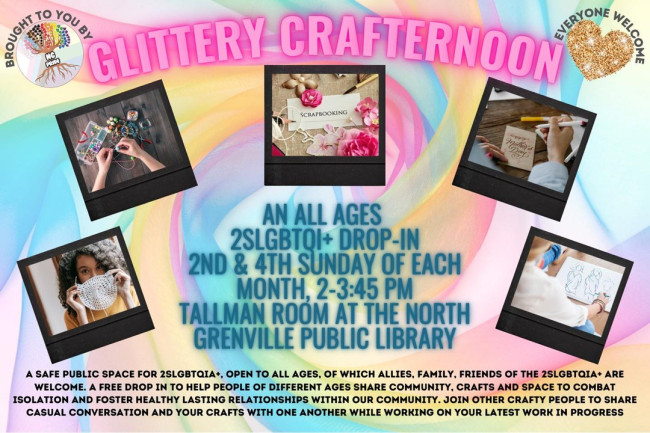 A safe public space for 2SLGBTQI+, open to all ages, of which allies, family, and friends of the 2SLGBTQI+ are welcome. A free drop in to help people of different ages share community, crafts and space to combat isolation and foster healthy lasting relationships within our community.
Join other crafty people to share casual conversation and your crafts with one another. It is not a class; we don't plan on teaching. People are expected to bring a craft that will hold their focus for the duration of the session. We are thinking of things like knitting, sketching, crochet, needlework - portable non messy projects of all sorts, that each person brings with them and works on individually.
*All children must be accompanied by an adult.
2nd and 4th Sunday of each month, held in the Tallman Room at the North Grenville Public Library.
Details
Date
March 26, 2023
Time
2:00 pm - 3:45 pm
Location
1 Water Street, Kemptville
Website
https://www.ngpride.ca/
Event Organizer
This email address is being protected from spambots. You need JavaScript enabled to view it.