Seed Bomb KidsKlub Workshop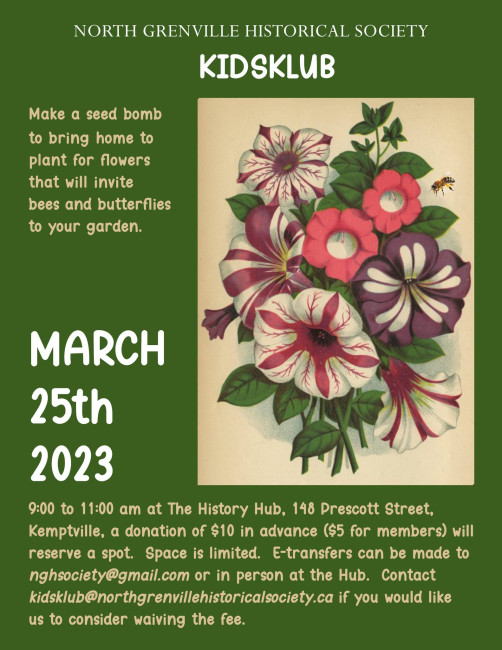 Hosted by the North Grenville Historical Society KidsKlub.
Geared to kids from the ages 5 to 12. Teens are welcome too, they just might find the 2 hours long. They are welcome to attend and leave early.
Get ready for spring and make a seed bomb in this workshop. Plant the seed bomb in the spring in your garden to encourage butterflies and bees to visit your garden. The cost is $10.00 and $5.00 for North Grenville Historical Society members. The fee can be e-transferred to This email address is being protected from spambots. You need JavaScript enabled to view it. to reserve your spot. This workshop will be limited to 16 and spaces will be booked on a first come first serve basis.
At the NGHS we would like to offer programming to all kids. If you can not manage the fee please contact This email address is being protected from spambots. You need JavaScript enabled to view it. and other arrangements can be made.
This workshop is in our kidsklub back2basics line of workshops. Other workshops include, candle, bath bomb and lip balm making to name a few. Stay tuned.
Details
Date
March 25, 2023
Time
9:00 am - 11:00 am
Location
148 Prescott Street, Kemptville
Website
http://www.northgrenvillehistoricalsociety.ca/
Event Organizer
613-258-4401 / This email address is being protected from spambots. You need JavaScript enabled to view it.