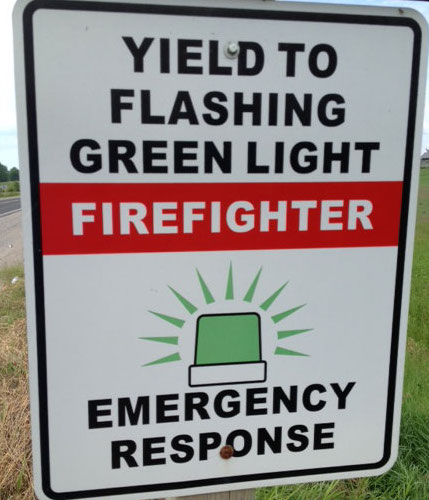 The North Grenville Fire Service and the Municipality of North Grenville would like to remind residents and motorists that vehicles with green flashing lights are being driven by volunteer firefighters who are responding to a call. As a courtesy, drivers are asked, to please yield the road to these vehicles. This may mean pulling over, if it is safe to do so, to allow the vehicle to pass.
The North Grenville community is served by 40 volunteer firefighters. Through the Green Light program, volunteer firefighters are equipped with green flashing lights for their personal vehicles. When you see a green light flashing from a driver's vehicle, it means the driver is a volunteer firefighter responding to an emergency.
Volunteer firefighters responding to an emergency typically need to drive their personal vehicles to a nearby fire station where they can transfer into a fire vehicle before responding to the scene of an incident. Pulling over when you see a firefighter's green light can have a big impact because every second counts.
Volunteer firefighters are also expected to follow the same rules of the road as all other drivers. The Highway Traffic Act allows volunteer firefighters to display a flashing green light when responding to emergencies. The use of the flashing green light on or in vehicles is restricted to fire services.