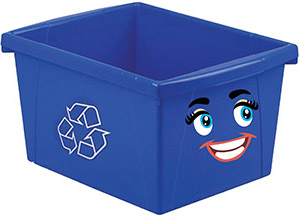 Recycling is collected weekly
Week 1 - Paper/Fibre
Week 2 - Plastics/Containers
Avoid over-filling your blue box as it results in recyclables littering the roadway. Use multiple blue boxes. Clear blue plastic bags are acceptable for plastics and containers.
A blue box must be used for recycling collection.
Purchase Locations
Municipal Office (Lg. $9.50; Med $7.00)
Oxford Mills Waste Transfer Station
Your local hardware stores
Allowable Items for Plastics and Container Recycling
Allowable Items for Paper and Fibre Recycling
What company picks up the garbage and recycling?