RNJ Youth Services - Choices Program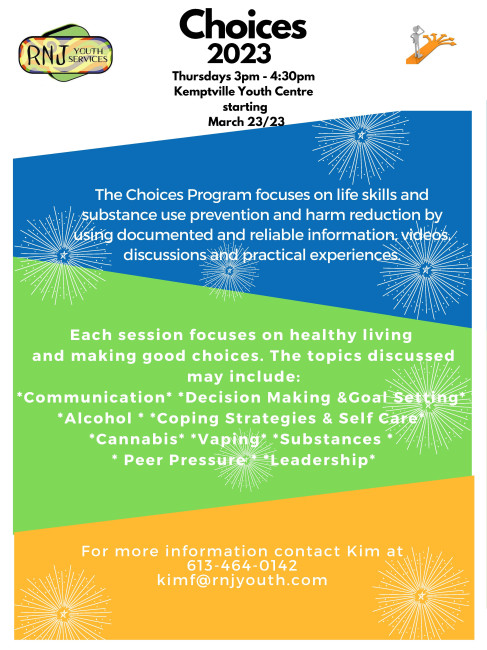 The Choices Program focuses on life skills and substance use prevention and harm reduction by using documented and reliable information, videos, discussions and practical experiences.
Each session focuses on healhty living and making good choices. The topics discussed may include:
Communication
Decision Making & Goal Setting
Alcohol
Coping Strategies & Self Care
Cannibis
Vaping
Substances
Peer Pressure
Leadership
Thursdays, 3pm-4:30pm at the Kemptville Youth Centre starting March 23, 2023 (10 week program).
For more information or to register contact Kim at 613-464-0142 / This email address is being protected from spambots. You need JavaScript enabled to view it.
Details
Date
March 23, 2023
Time
3:00 pm - 4:30 pm
Location
5 Oxford Street West, Kemptville
Website
https://www.rnjyouth.com/
Event Organizer
613-464-0142 / This email address is being protected from spambots. You need JavaScript enabled to view it.